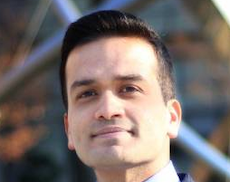 5G alone will not drive the next tech revolution. So which other technologies will combine with 5G to maximise opportunities for the channel. We asked Dr Arslan Usman, System Architect at Pangea.
A decade ago, the year 2020 was forecast as the year when tech breakthroughs would change the world as we know it. Those predictions weren't far off the mark – 5G is exactly the kind of technology that'll cause a paradigm shift, and considering that 5G roll outs began with 14 countries in 2019, we're close to reaching that transformational point. "What makes 5G so revolutionary is its ability to pair so well with every vertical industry," stated Usman. "It's the combinations with those technologies that'll open up profitable opportunities for the channel.
 
"Many of those combinations fall under the umbrella of smart cities. Vehicle to infrastructure (V2X) is often seen as the flagship innovation of smart cities (and the future in general), where cellular-connected cars communicate with everything around them to boost road safety, avoid traffic congestion, and of course drive without a driver. V2X itself is a complex tech, but it'll come to life when paired with 5G networks. When that happens, there's going to be a huge market for it."
 
Connected drones are another element of smart cities which can provide game-changing services, pointed out Usman. "Drones equipped with AI-based algorithms can search and rescue quicker and more efficiently than humans, with their heat and movement-sensing capabilities," he added. "For indoor operations, we all know Google Maps doesn't work in buildings, but drones can scout out floor plans for navigation and reconnaissance. And drones set up for fast, reliable home delivery would come in very handy right now.
"Or take healthcare for example. Ambulance drones can work in tandem with rescue drones and bring first aid supplies to rescue sites. Connected ambulances and care homes will enable remote diagnosis and reduce the strain on hospitals. The catch is that all these technologies require reliable, superfast, or ultra low latency connectivity offered by 5G networks."
If we're out of lockdown by the end of June, we'll see loads of sudden changes in the 5G world through the rest of 2020
There are three main 5G business models, explained Usman: Enhanced mobile broadband (emBB), ultra-reliable low latency communication (URLLC), and massive machine-type communication (mMTC). All of the 5G-related vertical applications rely on one or more of these three cases. "The current roll outs of 5G draw from enhanced mobile broadband, proven by the lightning speeds reported by those who've had the chance to use them," added Usman.
"But that's exactly the challenge right now, because so few have access to the 5G networks, device manufacturers can't tap into profits from 5G-enabled devices just yet. So national coverage is the biggest hurdle. Once 5G networks cover more of the country there'll be a massive customer base for 5G-powered devices like phones, dongles, routers and more. But the onus is on operators to get the networks to that point."
 
Another challenge comes with URLLC, pointed out Usman. Network operators already have the capacity to deploy this business model, but there's a lack of preparation in vertical industries. "For example, V2X needs to first work through its security issues to become viable, as nobody wants hackable cars," commented Usman. "Healthcare needs to update its policies to allow for digital automation. And drone-based services need strong regulations that ensure we don't see more scenarios like the Gatwick airport drone incident. URLLC will really come into fruition when vertical industry customers are ready to meet network operators in the middle. Something we're getting closer to each day."
 
The most exciting part of 5G is the sheer number of business needs it fulfils, enthused Usman. Between the three business cases of eMBB, URLLC, and mMTC, he says it offers all the key requirements of vertical industries, from ultra-reliable telesurgery to the massive IoT connectivity for thousands of sensors in a smart factory. "This is all down to network slicing, a 5G technology that allows operators to customise resources like data rates, latency, bandwidth and reliability based on exactly what a solution needs," he added.
 
"Once we're on the other side of the Covid-19 pandemic, network operators will focus on faster 5G roll outs to reach national coverage. They'll also work on the maturity of 5G networks and equip them to standalone without any 4G technology.
"Channel partners need to be ready for when national coverage does take place, as this will lead to a massive influx of end user devices in the market. If we're out of lockdown by the end of June, we'll see loads of sudden changes in the 5G world through the rest of 2020. So make sure you've got your 5G plans in place."