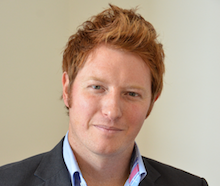 The challenges faced by 5G networks in maximising data transfer are being addressed by Pangea and the Kingston University following the formation of a Knowledge Transfer Program Partnership supported by Innovate UK, the Government-backed public body set up to drive productivity and economic growth. 
"The project's aim is to develop enriched video compression and data transfer techniques over 4G+ and 5G networks, unlocking groundbreaking speed and quality capabilities with huge implications," stated Pangea MD Dan Cunliffe (pictured).
Pangea will recruit a top class graduate to lead the project and work with Kingston University's Professor of Wireless Communications Christos Politis and video compression specialist Associate Professor Nada Philip. 
"Alongside speed increases which will rival those delivered by optical fibre, 5G will incorporate IoT technology which opens up many possibilities for the health sector and across the emergency services through the use of smart devices," stated Professor Politis. 
Professor Philip aims to address the key challenges in delivering optimal high quality video consistently through wireless networks when travelling at high speed. 
"When you stream multimedia content it will be affected by different network conditions," he explained. "We will be looking at how to ensure the moving images arrive in high definition, allowing for accurate medical diagnosis and enabling police forces to identify people from their body-camera footage."
Practical applications cited by Professor Philip include ambulance video streams that will enable medics to triage patients before reaching A&E; and always-on video streaming which would enhance crime scene assessments. 
"By combining our connectivity, commercial expertise and channel access with the power and knowledge of Kingston University's academics, along with access to its 5G testbed, we aim to pave the way for data transferal over powerful 5G networks," added Cunliffe. 
"It will completely transform how video and other data compression is used across industries and unlock fresh revenue streams for our partners and bring us a step closer to a 5G world."