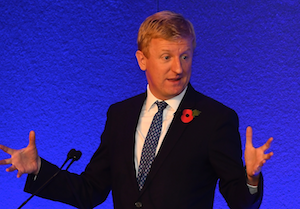 Digital Secretary Oliver Dowden (pictured opening Comms Vision 2018) has confirmed that Huawei 5G kit cannot be purchased by UK mobile operators after December 31st and that they must remove all Huawei equipment from their networks by 2027 - a decision that could delay the UK roll out of 5G by two years .
ISPA Chair Andrew Glover commented: "The Government's 5G announcement provides some welcome clarity to our members who are rolling out networks and providing broadband to consumers and businesses across the UK. 
"We look forward to further consultation with Government to determine the policy for fixed networks with a clear focus on ensuring that our members can roll out new gigabit-capable networks at pace. 
"As the Secretary of State emphasised today, supply chain interventions have a direct impact on the speed at which networks can be rolled out, so any new restrictions need to be counter-balanced with an appropriate level of support for the sector.
 
"The Government has rightly made upgrading our digital communications infrastructure a priority, we now need to see a clear, ambitious plan from policymakers to help the companies that are leading this charge."