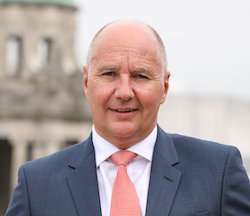 The comms channel over the past two years faced a tremendous challenge in responding to the Covid-19 crisis, but what will be the primary challenges, uncertainties and opportunities facing the sector in 2022?
Having absorbed the brunt of the pandemic and facilitating the move to home working, it is fair to say that the comms channel has emerged stronger. "Absolutely, many companies have adopted new technology and brought new, stronger partners on board to safeguard their new way of working," stated Britt Megahey (pictured left), founder and Managing Director, Barclay Communications. "More than ever, business owners have experienced the benefits of comms technology, and customers have advanced five to 10 years faster in terms of comms tech because of the pandemic."
 
From the outset of the pandemic, organisations quickly learnt that they need resilient infrastructures to absorb future disruption. "The pandemic was a harsh lesson for many organisations," added Megahey. "One of the biggest lessons has been knowing the importance of pairing with a robust and capable partner that supplies the most reliant and stable technology. Many customers were stuck, and that had a challenging impact. Taking the right action and making the best decisions to ensure existing solutions can scale up quickly, and partnering with the right technology partners who respond quickly is vital for the years ahead."
With the infrastructure environment shifting, and 2025 on the horizon, it has become urgent for resellers to reshape their outlooks, strategies and portfolios for long-term growth. "This is one of the most exciting times in the channel," added Megahey. "Customers cannot sit still. The 2025 roadmap means we know what's happening, which is rare in this industry. Therefore investment for the next three to four years has to be paramount to scale for this change. The channel has the choice to provide a roadmap for customers and ensure they are prepared."
Megahey is investing heavily in infrastructure and Barclay Communications' ability to scale. "Our top priority is to familiarise customers with our products, ensuring they understand and can use our entire portfolio," he commented. "We have already prioritised multiple changes such as our CRM, our order and support capabilities as well as our diverse multi-skilled sales teams. We can't pigeonhole our customers and that means we need to accommodate their bespoke needs. It's about investing and re-investing again and again."
The pandemic has fast-forwarded the adoption of new technology and as a society we are more open to upgrades. "Customers are driving demand rather than the channel," said Megahey. "The channel has an opportunity to be even bigger and stronger, and those with ambition will have the most loyal customer base."
As noted, the real drive will be the magnetism of technology and it is safe to assume that proactive ICT resellers will stand to gain most. "Demand is strong, especially driven by hybrid working policies and shaping IT to deal with more distributed work forces," stated Graeme Watt (pictured left), CEO, Softcat Communications. "Resolving the challenges of component shortages and the recovery in enterprise demand as people return to the office will also lead to incremental growth. Demand for mobility and collaboration supported by comms has clearly spiked positively. It will remain at these high levels as companies refresh and continue to invest in their networking environment so that they are fit for purpose."
 
Watt's priorities for 2022 include growing and taking share while remaining 'a great place to work'. Other focus areas are managing a distributed workforce, recruiting talent, driving cloud leadership, developing a stronger presence in central government and defence, and investing in supporting UK customers with their global requirements.
"The need and demand for digital transformation has been clearly demonstrated," stated Watt. "Investing in digital is no longer discretionary and businesses need to be digitally enabled to give the right level of customer and employee experience, as well as to survive and show leadership in their chosen sector. Comms providers are well positioned to deliver on this opportunity. The most successful will be those who take time to understand the customer's needs and deliver to commitment with an outstanding attitude."
Watt's stance is clearly in line with the needs of the market and supported by a solid and holistic strategy. "We have built out our skills and offerings to support the workspace and do it in an environmentally responsible manner," he added. "Our vendors are dispersing their manufacturing across the globe and putting it nearer the technology consumer. This way they can still manufacture and assemble product if one part of the world gets hit by a crisis. Customers will, with our help, select the technology most suitable to protect them and deliver their required outcomes. My advice would be for companies to keep their IT infrastructure current and above all else to make it secure."
Forward looking resellers are moving towards an ever closer relationship with end users, making them stronger and best positioned to grow their business. "There is room for everyone in the market – cybersecurity, digital workspace and hybrid infrastructure are the key technology areas that we are focusing on, as driven by our customers," added Watt. "Those technologies will be supported by hardware, software and services and span on-premise as well as private and public cloud. There is no doubt that cloud adoption, digital transformation, data management and edge computing are key. Most resellers should be focusing on some or all of these elements if not already."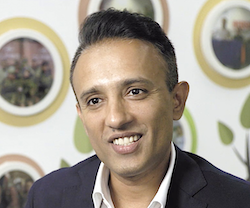 At the heart of Redsquid CEO Sohin Raithatha's (pictured left) planning is upskilling, and to drive this he has shifted up a gear. "Redsquid is experiencing significant organic growth, and we need to ensure that we get the right people on board to help us drive our purpose and vision," he said. "Through 2022 one of the biggest challenges will be finding talent to join our organisation. The industry skills gap is very real and something that will affect many organisations like ours.
"To overcome this, we are investing in upskilling our team and currently have over 40 per cent of our workforce enrolled in degree level training courses. The skills gap is not a short-term problem and unless we all invest in the industry now the problem will follow us for years to come."
Raithatha is equally determined to get his customers on track with the future of communications and has wasted no time in preparing for 2025 and beyond. "Connectivity is the backbone of our ability to work from anywhere and the opportunity here will remain," he stated. "Preparation for the 2025 switch-off should happen now and is something everyone should have been talking to their customers about for a long time. With only three short years to go, it is important that we keep educating our customers and informing them about what the future after the switch off looks like.
"I am also evaluating our product portfolio and making sure we have no gaps in terms of what our customers need from us, and what skills and technologies we need to acquire as a part of our growth strategy."
Meanwhile, SMEs and larger enterprises have learned the value of their ICT providers in managing a pathway through lockdowns and 'the unexpected' while removing complexity from their digital transformation journeys. "The pandemic has shown us that organisations need to be prepared for the unknown and that everyone needs to be set up with technology that brings flexibility and agility," added Raithatha.
"With hybrid working, the focus on security keeps increasing, so managing devices is important and cybersecurity technologies will be a big investment hot spot. The channel faces so many opportunities like this, making it more innovative and exciting than ever before. However, those that refuse to change and adapt will disappear quietly or as part of the surge in M&As."