Talking Point: Vincent Disneur
Union Street is looking to dominate the channel billing market and a merger with Aurora and the acquisition of ebillz has set the wheels in motion. We talked to new Managing Director Vincent Disneur about the company's growth plan and ambitions following the announcement of the Aurora merger.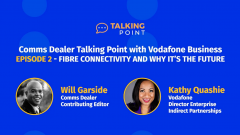 Comms Dealer Talking Point Vodafone - Episode 2
In the second of our Talking Point interviews with Vodafone, Kathy Quashie Director Enterprise Indirect Partnerships, talks to Comms Dealer about fibre connectivity and why it is the future.
To learn more about becoming a Vodafone Indirect Partner visit their website