Talking Point: Paul Beacham
As the Covid -19 crisis drags on, the market between the traditional fixed office and the home continues to blur and has resulted in an exponential rise in data networking opportunities for all types of resellers to exploit.  We asked Paul Beacham, Senior Manager, Data Networking Portfolios at BT Enterprise to explain where these opportunities are in more detail.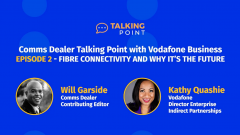 Comms Dealer Talking Point Vodafone - Episode 2
In the second of our Talking Point interviews with Vodafone, Kathy Quashie Director Enterprise Indirect Partnerships, talks to Comms Dealer about fibre connectivity and why it is the future.
To learn more about becoming a Vodafone Indirect Partner visit their website