Bounce Back: How High-Value CX Gives Your Customers the Tonic for Recovery
In today's tough market situation, your customers must position themselves to thrive by creating competitive advantage:
Is customer experience (CX) really the key factor that will make the difference?
Are organisations actually spending their scarce resources on CX?
Will CX deliver significant high-margin business for you, as your customer's trusted adviser for comms technology?
The simple answer to all of these questions is YES!
CX is going to be the most important factor for many businesses over the coming 12 months, and your customers are desperate to differentiate themselves through the quality of the customer experience they deliver.
We joined Content Guru to learn how CX will give your customers the best possible tonic for a fast-acting post-COVID recovery, and discover how you can provide your customers with the solutions they need to become long-term market leaders in customer engagement and experience.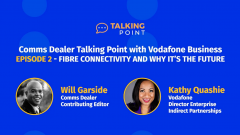 Comms Dealer Talking Point Vodafone - Episode 2
In the second of our Talking Point interviews with Vodafone, Kathy Quashie Director Enterprise Indirect Partnerships, talks to Comms Dealer about fibre connectivity and why it is the future.
To learn more about becoming a Vodafone Indirect Partner visit their website