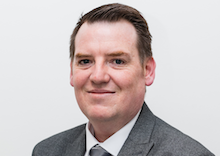 Wildix has stepped up its channel assault on the SME video conferencing and room solution market with the launch of its low cost Wizconf hardware package. 
The web PBX supplier claims a person with no technical skill whatsoever can set up a video conference in just 30 seconds using the Wand remote control supplied with the solution which incorporates one, two or three screens plus studio quality microphones. 
Ian Rowan (Pictured), UK Channel Manager said: "Video conferencing and room solutions have been around for many years but are cost prohibitive for most SME companies.  
"Recently, we have seen many informal VC solutions come to market that allow you to use laptops, desktops and mobile phones as a conferencing device. We have the same within our own collaboration solution but using our own range of plug and play hardware it gives the user a complete solution and our partners a single vendor solution for supply and support.
"Last year we introduced the Ubiconf Huddle, a small, plug and play device that supports full 1080p video, 120-degree wide-angle viewing and 360-degree audio. This has gone on to be one of our most popular devices. 
"I am sure our partners will now embrace Wizyconf which bridges the gap between informal and formal conferencing solutions allowing participants to join from any mixture of devices ensure the best possible experience to all involved."
Wildix CTO Dimitri Osler added: "Using the power of Google Chrome OS to provide this functionality in a dedicated i7 small form factor conference controller not only makes the solution simple to use but also goes along with our secure by design philosophy. Google have in fact offered a reward of $2.7 million dollars to anyone that can manage to infiltrate Chrome OS."