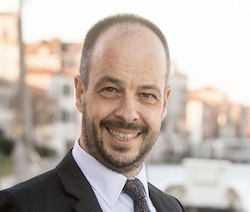 Large scale cloud PBX providers sweeping up subscription-based long-term customer contracts pose a growing threat to UCaaS resellers, according to Wildix co-founder and CEO Steve Osler (pictured), who predicts that 2023 will be a make-or-break year for many channel resellers too slow to adopt subscription payment models.
"Customers signing up for a new cloud PBX in 2023 will not change it until the PBX goes for good," stated Osler. 
"Everyone is grabbing what they can and trying to convert them to recurrent cloud solutions. As a result, 2023 is the year in which you have to convert your remaining customers from Capex to Opex."
To underline the urgency Wildix's UC&C Summit 2023, staged in January and attended by over 1,300 UC&C specialists from across the world, underscored the importance of using subscription models to protect against the threat posed by hyperscalers while exploring the key drivers in a post-PBX world.
Wildix co-founder and CTO Dimitri Osler added: "What's next after the PBX market is dead? Customer communication platforms. These platforms create opportunities and maximise the chances of closing deals by increasing customer interactions. From a business owner's perspective, there's always a need to invest in a solution that can achieve that."
The summit also recognised the Top 10 UK partners in 2022...
1. Arrow Business Communications 
2. Readycrest
3. NT Voice and Data Solutions 
4. Challenger Mobile Communications 
5. TIC
6. Aonix
7. European Telecom Solutions 
8. sw comms
9. Avandda
10. Wavenet
Ian Rowan, UK Senior Channel Manager, added: "It's great to see the growth of so many partners increasing their revenue and embracing new services like our international network and the ability to subscribe to hardware rather than leasing or purchasing."