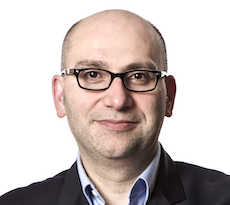 Mitel's popular UCaaS agency and SP model in the US will be just as fashionable across Europe, says VP UCaaS International Rami Houbby who expects his expansion plan to yield rapid results.
With Mitel's UCaaS agency model going great guns in the US the Canadian vendor has revealed plans to ramp up this market approach across Europe. According to Houbby, this reflects a shift in the way UCaaS is sold with the vendor ultimately owning the customer. "Our agency model is gaining traction in the UK," he said. "Channel partners are uncovering opportunities within their customer base and then leaving the heavy lifting to vendors who help close, on-board and provide the customer services. Following Mitel's successful agency model programme in the US we are expanding coverage in Europe and expect to see rapid growth in UCaaS solutions sold via our network of sales partners."
Houbby is seeing fast growth in UCaaS across all UK market segments and across firms of all sizes. "In the UK and western Europe the SMB segment is where UCaaS is gaining most traction," he added. "It enables them to quickly migrate to the cloud and benefit from advanced communications and collaboration features at a monthly cost. As part of this, we're seeing 30 per cent year-on-year user growth through our UCaaS offering via service providers. We now partner with more than 20 mobile operators to offer this solution."
Although more businesses are moving to the cloud and the UCaaS market is recording double digit growth, it is clear that organisations will transition at a different pace. According to MZA, on-premise UC solutions will continue to represent a significant percentage of the Western Europe comms market with on-premises deployments anticipated to represent almost 63 per cent of demand in 2023. "Many organisations that need an on-site solution are conscious that cloud communications are on their horizon," added Houbby. "As these businesses look to the future, it's important they select cloud-enabled UC solutions that can accommodate their needs today, with the capability to meet tomorrow's challenges. There's no one-size fits all approach for the pathway to the cloud."
We are investing in European expansion and expect to see rapid growth in UCaaS
Apart from the benefits of the technology itself, the approach resellers take to cloud migration could determine the level of interest they get from customers. "Any transition to the cloud is an ongoing journey, not an overnight rip-and-replace project," noted Houbby. "Companies need to think business objectives first and align their cloud transformation strategy to those strategic goals. There are many different choices customers can make when it comes to their cloud strategy – public, hybrid and private cloud models all have their advantages."
Houbby identified two primary drivers of UCaaS adoption. First, simplification and convenience. "UCaaS allows organisations to focus on their core business, not on running a UC system," he commented. "It also ensures the company can benefit from the latest innovations as they are released without worrying about future upgrades. Secondly – cost savings and flexibility. With a monthly operating cost, UCaaS eliminates the need to spend money upfront and flexible plan options mean businesses can scale up and down instantly, mixing and matching features to meet their needs at any particular time."
 
One of the biggest trends observed by Houbby is the increased demand for integrated unified communications and collaboration applications, including video, chat, online shared spaces to address staff productivity and ever increasing requirements around remote working and mobility. "More and more organisations are conscious that in an increasingly connected world they need to transform and adopt the latest communications and collaboration technology innovations to remain attractive and competitive," added Houbby. "We see it as one of the key drivers of the migration to the cloud as this technology delivers faster and easier access to key productivity tools."
 
Houbby does not expect to see one variant of UCaaS to gain dominance over another, but he does consider Programmable Communications Cloud – which embeds voice, messaging, video and authentication capabilities into applications via simple APIs – to be a transformational technology in terms of UCaaS. "This will drive innovation around bringing out business applications that integrate IoT and AI capabilities which cater for vertical markets across the board to address business workflow and process issues," he commented.
"We are seeing applications emerge which leverage such capabilities, particularly driven by CPaaS, but it's early days and we expect this to grow in 2020 and beyond. The opportunity for resellers lies in investing in the skills necessary to build such applications that they can position with their customers. Resellers will be able to offer differentiation beyond voice, continue to remain relevant and inspire customer loyalty while providing greater value to customers."