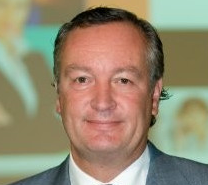 A link up with Intermedia has enabled NEC to ramp up its global cloud comms and collaboration services strategy as the tech partners plan to launch the Univerge Blue Connect UCaaS solutions and the Univerge Blue Engage CCaaS offering.
They will be sold primarily under private label through a network of reseller partners and IT distributors.
The roll out kicks off in the United States within Q2 2020. The follow-on expanded offering will integrate with NEC premise-based systems.
"Enabling customer migration to the cloud key," said Paul Kievit (pictured), President and Head of NEC Enterprise Solutions EMEA and Americas. "To support this rapid migration on a global scale NEC aimed to team up with a born-in-the-cloud partner that could provide a fully integrated suite of UCaaS and CCaaS solutions."
According to Elka Popova, Vice President, Information and Communications Technologies at Frost & Sullivan, the deal is 'a big move for both NEC and Intermedia'. 
"When you combine NEC's reach and relationship with its channel and Intermedia's UCaaS and CCaaS offerings, you have to take notice," she said.