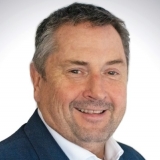 Nuvias UC is on track to hit over £100m revenue this year, up from £62m in 2021. The company's considerable growth has been fuelled by its ongoing relationship with Poly, pivoted on new video conferencing opportunities for the channel as UK workforces return to their offices.
Comms Dealer quizzed CEO Jeremy Keefe on why investing in quality VC solutions should be a priority for ambitious, margin hungry resellers post Covid-19.
CD: How will the measured return to work accelerate demand for quality in-office video solutions?
JK: "The pandemic has shown that people can be productive when working from home, but that is increased when they have the right technology around them. A high percentage of the population do not have that ability – they are working from their bedroom or working from their kitchen table.
"Many people are getting fed up with this, as they don't have the ergonomic seats and desks, audio and camera technology – and they don't have the right screens at the right height. Put simply, they don't have the right technology to be able to do their job well.
"Over the last six months, this has driven companies to look at how they can bring people back to the office. Investment will be focused around creating an environment that entices employees back, offering far better collaboration opportunities than they would receive from working at home."
CD: So, the office meeting room is returning?
JK: "Indeed, it is. In the first year of the pandemic, people were gearing up their workforce to be remote. This meant investing in decent cameras and decent audio equipment. For resellers and distributors this stifled growth as you need to sell lots of these units just to remain stationary in the market.
"What we are seeing now is the resurgence of the meeting room. I still go into small meeting rooms with a phone on the desk where the company says – "just hit the speaker button" and naturally the quality of audio is poor. How do I then share content? How do I bring more people into that environment? How do we start video meetings?
"Investment is going into making these rooms fit for purpose. It's not a one size fits all for rooms today. Companies need to be geared up for employees who need a one-to-one chat, a one-to-many chat or a one-to-remote chat. Certainly, content sharing and better collaboration is going to be a big thing for these companies."
CD: What added value does Nuvias UC bring to the supply of Poly solutions?
JK: "It is a bold statement – but we just do things better. Nuvias goes the extra mile for our partners which I have witnessed from being on the vendor side. We are the Ronseal of the industry – we do what we say on the tin. We fill gaps partners have in their technical abilities to enhance the way they deliver solutions and in the voice marketplace we offer end-to-end provisioning services so that phones are ready to go and plug in as soon as they reach the end user site. On the video side we can provision the product before it leaves us and upgrade firmware to ensure the product is completely up to date before it leaves our office.
"It's a complete end to end solution. We've got technical people that can help up front in solution design. That's not just ergonomics - it's the software and the platform that sits in the middle. Whatever the challenge may be, we've got the expertise to talk channel customers through an opportunity, large or small."
CD: Why has Nuvias UC's relationship with Poly been so successful and what benefits has it brought the channel?
JK: "We have had a relationship with Poly now for over nine years. In the genesis of our relationship, we helped Polycom drive its handset business into the UK. From this point we helped Polycom embed its product within multiple ITSPs. After the Plantronics merger, the focus was on bringing in distributors that would sell voice, headset, and video solutions – so we began to invest in these technologies.
"Now, we do a great job in supporting partners and providing a turnkey solution for our channel partners to take to market. It's working brilliantly, so much so that we've seen an explosion of orders in the video business, with revenues eight times up on last year!"
Become a Nuvias UC partner now and take a new path to profits Call +44 (0)1635 225 000