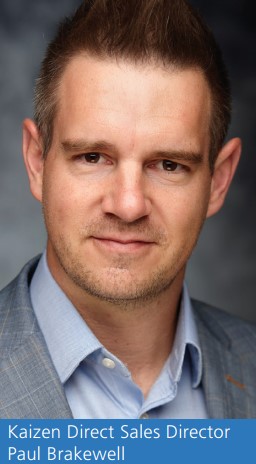 Newly established Kaizen Direct has been built on over 20 years of experience in the telecoms market. The name Kaizen comes from the Japanese philosophy of 'continuous improvement' and the company now offers a unique service to SME customers to review, manage and implement modern voice communication technology across their business. This may be serving a single user with a mobile phone and pocket landline, right through to enterprise business and multi-site contact centres.
Kaizen's partnerships are of huge importance and the company has already secured 'best of breed' supplier deals with NEC, O2 and, most recently, Fidelity Energy.
Sales Director, Paul Brakewell explained the genesis of the Fidelity Energy partnership: "I knew of a previous company which had taken up the energy offering but did not progress with it. After I went self-employed, I was put in touch with Fidelity Energy through a partnership with Currys, and it really was a no brainer. To move forwards in business, you must look at recurring revenues and take on products with integrity in a competitive market. On top of that, the wide range of suppliers who offer upfront commissions is very attractive.
"Onboarding with Fidelity Energy was very easy. A lot is done in the background, and it is such a personal service which is testament to the incredible team which handles everything. I have a great relationship with my Internal Account Manager Jacob Flack and Business Development Manager Clare Stratford, who have been fantastic, and I have a call most days with them. It is a really friendly relationship and I see them as my energy team not as a second company."
Kaizen Direct aims to change the way that businesses engage with their telecom's provider by offering a consultative approach to business services and implementing the right changes for their business. Their account managed service allows customers to feel valued and 'part of the company' as Brakewell stressed: "We incorporated after the pandemic, which was a changing point for communications. As a company we have an offering that allows business to work in a more flexible manner and we assist other businesses to be able to achieve this. After the pandemic it allowed me to source the best products and offerings, such as energy, and deliver these solutions to companies.
"Energy is a very easy process and we have had success in many accounts and still have some ongoing. Fidelity Energy has taken the lead on pretty much all of it, so once I have handed over the bills, they take it from there and I have had little involvement in sourcing the prices. Business energy is extremely complex and for some of the trickier customer sites, they will even contact the customer as Kaizen Direct to answer any questions and offer the expert information straight to the customer. This gives my customers the best service and experience to ensure their energy is handled as professionally and efficiently as possible."
When asked if energy was a distraction to Kaizen's core business, Brakewell commented: "In communications, when you're discussing utilities, business energy falls into the same area on the billing platform. When we are looking to gain trust with our voice communications and IT services, it is an easy cross[1]sell, especially for our higher manufacturing plants who need someone to rely on to support them and offer advice alongside our products.
"As a business you must look at increasing revenue streams from any areas you can. If you are selling a service and have an opportunity to make the customer stickier and more engaged and give your business a fuller offering, then any business should consider the partnership.
"We would have been insane to ignore this revenue stream which with a small amount of additional effort can generate huge amounts of money for us," he concluded. Kaizen Direct Sales Director Paul Brakewell
For further information: https://fidelity-energy.co.uk/