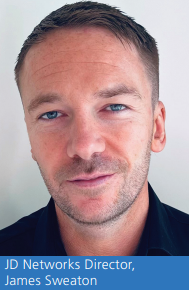 The team at Yorkshire based JD Networks has been providing cost effective and efficient services in business telecoms, energy and merchant payment systems for the past 20 years. They are constantly looking for new ways to help businesses thrive throughout the United Kingdom and pride themselves on delivering the highest quality service to their customers.
Director, James Sweaton, explained why JD Networks became a Fidelity Energy partner over five years ago: "JD Networks already had a strong B2B Telecoms base when I first discovered Fidelity, but I could see an opportunity to further grow our revenue potential and ultimately make our customers happier by expanding the services on offer.
"They really understood our needs and worked closely with our core team to build their knowledge of the industry, the quoting process, and shared key insight from their dedicated expertise to enable us to create our own specialism in the area. It felt like a true partnership.
"The ongoing support has been invaluable. We receive regular energy market reports which we share with our customer base. We also have a fantastic account manager in Jason Fernyhough who regularly visits and is always happy to attend customer meetings should we need him to."
Like most businesses, JD Networks was impacted by the pandemic, but Sweaton underlined how energy played a role, and the successes seen from being able to offer energy procurement to customers since.
"In addition to our own office closing for a period, our customers have also been impacted and all of this has been exacerbated by recent wider global economic events. However, because of our dedication to customer service and always seeking to go above and beyond for them, we have been able to sustain core revenue in difficult unprecedented times.
"We have had incredible success with Fidelity and within the energy industry in general. As an illustration of this, I can share an example of a builders merchant having trouble with its broker due to them allowing meters to expire. The broker simply did not have the time to give the business the attention and care that it requires. After spending time learning about their business, their priorities and needs, we won the account. We have now secured and managed more than 150 energy meters for them since they became a customer and it's ever growing."
Since the partnership with Fidelity began, energy has become more than just an additional service for JD Networks and Sweaton described how it has progressed: "At first, I was the only individual within our company that was selling energy products. However, as our knowledge has increased so has our success, and now the full breadth of our team promotes the product to new and existing customers.
"Energy is now vital to our business, and I take pleasure in watching it grow and compete to be on a par with our existing successful telecoms business. We have a dedicated section on our website for energy and I am excited to see what new energy related products, such as EV chargers, become available in the future so that we can continue to serve our existing loyal customers with all their energy needs.
"I would just like to express my gratitude to Fidelity Energy and the fantastic team they have built. It has been a pleasure partnering with them and I look forward to working with them more in the future and continuing to build on our joint success," he added.