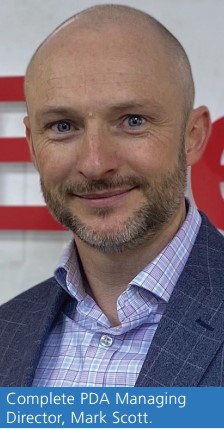 Walton-on-Thames based Complete PDA offers a one-stop IT and data service to both new and existing business customers.
Founded in 2005, the company has also been offering energy to its customer base for 10 years. It began working alongside Fidelity Energy in 2018 and the partnership has had a highly positive impact on the business, according to Managing Director Mark Scott.
"It wasn't until we partnered with Fidelity Energy that we saw the difference it made. The Fidelity brand has never been forced on us. All marketing materials can easily be white labelled and whenever we need additional help and support with any marketing flyers or mailers the team are always on hand to provide this. The newsletter updates are great to have too, as we can show the client when prices have increased or decreased due to the market movements.
"We have regular contact with our Business Development Manager, Clare Stratford and the team are always proactive in keeping us up to date with our portfolio. We enjoy regular interactions with Fidelity Energy's top people like John Haw and Sean Dixon through updates, webinars and events. We therefore know no one is hiding anything. Once we have got the contract signed by our customer, they do all the stuff behind the scenes from talking with suppliers and managing the switch."
From the low energy prices during the pandemic to the unprecedented highs seen in the ongoing energy crisis, Fidelity has helped Complete PDA progressively and proactively support its customer base, as Mark explained.
"90% of all our business is retention. We have had some customers for almost 20 years, so suggesting another product to them is quite easy, especially with energy where they can benefit from the service and no longer need to manage a complex utility. As mentioned The biggest benefit of working with Fidelity Energy is that we can forward procure. So, during the pandemic when the market dipped, we were able to proactively look after our base.
"During the Covid crisis, trying to persuade customers to procure when the prices were so low was tough as many businesses were working remotely and not using their office space. But the support from the Fidelity Energy team, across all aspects of the sale, helped immensely. Locking previous short term contract customers into four- or five-year deals was a revelation. Many have come back to me now to thank me for saving their business!"
The highs of the energy crisis have been just as difficult, but Complete PDA have still been able to alleviate the issue for customers by showing industry knowledge and qualified information with support from Fidelity Energy, which constantly monitors market movements.
"Their team let us know when it is best to forward procure the energy at a time that benefits the customer, rather than in the short period of time when they are in their renewal period," said Mark.
"For example, last year, we quoted a client before their renewal as we believed it was the best time for them. The market was predicting a double hike in prices by the time they were due to renew. We had built the trust in the relationship over many years and with Fidelity Energy providing the reasoning to support the predictions, the customer was happy to accept. By the time they switched they had managed to avoid the double price rise and saved their business from paying an eyewatering rate.
"This is something we were unable to do in the past and has been crucial to us in supporting our customers during the energy crisis."
Summarising the benefits of the partnership with Fidelity Energy, Mark said: "They are always there to support us as their partner, working alongside us rather than just as a reseller. That is what makes a big difference when you go into a partnership with anyone."