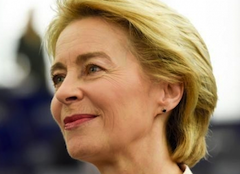 The European Commission has outlined a new pan-European data sharing and AI strategy to support the growing digital economy.
The President of the Commission, Ursula von der Leyen (pictured), said: "We are presenting our ambition to shape Europe's digital future. 
"Our strategy covers everything from cybersecurity to critical infrastructures, digital education to skills and democracy to media. I want digital Europe to reflect the best of Europe – open, fair, diverse, democratic and confident."
Commissioner for internal market, Thierry Breton (the ex-CEO of Atos), said: "Our society is generating a huge wave of industrial and public data, which will transform the way we produce, consume and live. 
"I want European businesses and our many SMEs to access this data and create value for Europeans – including developing AI applications.
"Europe has everything it takes to lead the 'big data' race, and preserve its technological sovereignty, industrial leadership and economic competitiveness for the benefit of European consumers."