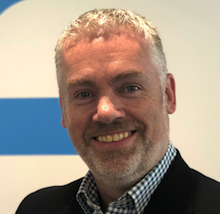 FluidOne CEO Russell Horton champs at the bit as he outlines plans to triple revenues over the coming five years after the company's acquisition by Livingbridge in February.
Here, he gives us the inside story on a deal that puts rapid organic expansion, channel growth and acquisitions front and centre. 
Livingbridge's acquisition of FluidOne from parent company Rigby Group closed the first chapter of a growth plan that took shape over a year ago (Horton and eight members of the management team also invested in the business as part of the transaction). "I was approached by a headhunter acting for the Rigby Group in January 2018," stated Horton.
"Their objective was for me to join the business and build its value towards an exit within 18 months. As part of the interview process I had to present my strategy for how I would create the exit. Having researched and referenced FluidOne in detail and met with some of the key directors, including COO Chris Rogers and CFO Hemant Patel, I realised there was a great platform for a buy-and-build in a fast growth marketplace driven by digital transformation, supplier fragmentation and convergence."
Horton also observed that FluidOne had a strong network aggregator product set and an equally strong customer base with diverse routes to market, but it was under represented in the channel and had a limited number of lines of business. "These gaps presented a fantastic opportunity and underpinned my strategy to build on the connectivity platform and acquire quality businesses with specialisms in OTT connectivity related services including UC, IT cloud managed services, security and the IoT – and to activate sales and marketing for organic growth especially in the channel," he explained.
Rigby Group backed Horton's strategy and he joined the business in April 2018, initially refining the plan and learning about the organisation, its staff and customers. "We then built out the senior management team to support the five year vision, blending a mix of the existing management and external hires to give a strong balance of heritage, organic growth and acquisition experience," added Horton. "An early step change was to introduce Net Promoter Scoring (NPS) and use this for detailed customer feedback to drive a programme of improvements led by our Service and Billing Director James Storey. This has risen from an industry average of 35 in July 2018 to 70 in February 2019."
I realised there was a great platform for a buy-and-build in a fast growth market driven by digital transformation, fragmentation and convergence
Horton worked with Rogers and Patel to develop a more detailed five year plan with a view to going to market. Rigby Group engaged Deloitte to act as corporate finance advisors and supported Horton and the management team to hone the plan into a pitch deck suitable for PE investment. "In going to market there were a large number of private equity firms interested in discussing the opportunity, and Rigby Group with the help of Deloitte met an initial round to produce a shortlist of the best fit," explained Horton. 
Livingbridge got the thumbs up. It has experience in the comms sector, its current portfolio includes connectivity infrastructure provider M247 and Southern Communications. And Horton said the PE firm's readiness for open and frank conversations was also appealing, which he says established trust as all three parties sought a win win deal, while keeping a strong relationship with the Rigby Group. 
"Livingbridge's team supports investments to exceed growth plans, both organically and via acquisitions," added Horton. "We have already begun engagement on an improved strategy for digital marketing, increased support for finding acquisition targets, and have greater funding fire power to acquire larger businesses than I had originally planned."
Livingbridge also believed that Platform One – FluidOne's SDN that integrates cloud, IoT, broadband, Ethernet and mobile communications services – is a key differentiator in the market and another reason to invest. "Therefore Livingbridge was focused on due diligence in ascertaining the quality of the network, customer feedback on our services, and verifying that it was a true USP in the market," added Horton. "I am pleased to say that we came through the detailed and technical due diligence with flying colours." 
The biggest opportunity for FluidOne and resellers is to deliver a differentiated service for connectivity and OTT offerings
For the year end to March 2019 Horton forecasts £29 million revenue (11 per cent organic growth on the prior year) and £3.2 million EBITDA. The company has a circa 100 headcount including a small dedicated outsourced team, approximately 700 direct clients and around 200 active channel partners. "We aim to grow to three times the current turnover, bringing a wider range of products and services to our customers while maintaining service levels and a strong staff culture," he stated. 
"For the next 12 months one of our major priorities is to grow in the channel by onboarding new partners and bringing a wider range of services to existing partners. To complement our existing services we have a product roadmap to bring a wider choice of UC, SIP, IoT, SD-WAN and DASH portal improvements to our channel partners, along with improved strategic relationship engagement and service management being led by Channel Sales Director Henry West." 
 
Horton says he has the fire power to more than double the size of the business in the first two years through M&A. "We are looking for quality reseller businesses with reputations for high client service who would benefit from leveraging FluidOne's network aggregation platform," he stated. "Our strategy is to bring the acquired skills and experience in sales, pre-sales, product and service to the benefit of our existing customers, and to offer Platform One services to the acquired customers. We are looking for companies that are strong in at least one of UC, SIP, IoT, security and IT cloud managed services."
These preferred business and technology profiles are reflective of a market undergoing digital transformation, the convergence of IT and telecoms and the fragmentation of connectivity carriers – all major trends driving demand for quality connectivity with increasing bandwidth, believes Horton. "The biggest opportunity for FluidOne and resellers is to deliver a differentiated service for connectivity and OTT offerings, and simplifying the supply and complexity of these," stated Horton. "To give end customers a choice of carrier, bandwidth and price at each location is a key enabler for our channel partners to make the most of this opportunity."