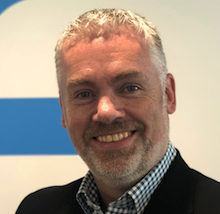 Russell Horton's obsession with business growth continues unabated as he releases the great potential that lies within FluidOne – and his CEO appointment in April means the game is on.
Growth is the road down which Horton has moved throughout his career. It is a challenging one, but experience and strategic vision have again come together as he puts in place a five year plan that will take FluidOne to £75 million. The company currently generates revenues of £27 million, has 100 staff and over 300 channel partners alongside a direct business that focuses on enterprise customers. "I plan to grow over 10 per cent organically by 2019 and then look for strategic partnerships and acquisitions," stated Horton. "When I was approached about the role I noted a lack of brand presence in the market, under investment in sales and marketing, particularly in the channel, but great potential for growth."
Another deciding factor was the parity between how the Rigby Group – FluidOne's private equity backer – aligned with Horton's future vision for the business. "My first job was to work with the team and devise a five year strategy," he explained. "I launched this at the end of May. Other short-term priorities include strengthening the management team, launching our Platform One proposition to the market – a Software Defined Network that integrates cloud, IoT, broadband, Ethernet and mobile communications services from every major asset owner in the UK, and makes them available to partners and customers with full software control via a single in-house developed portal called DASH."
Rigby Group acquired Fluidata in March 2015 and added mobility specialist One Point to its portfolio in December 2015. The two companies merged to form FluidOne in October 2016. The combined business offers a full range of connectivity, Unified Communications and mobile services, has 18 data centre PoPs across its Software Defined Network, and strong vertical propositions particularly in construction, professional services, financial services, hospitality, hotels and retail. The appointment of ex-Elite Group COO Horton saw former Chief Executive Piers Daniell become Chairman. Daniell founded Fluidata in 2004.
"FluidOne is well known in the carrier and wholesale space but we lack presence in the reseller market," commented Horton. "I see fragmentation increasing in connectivity supply in the UK, for example with niche providers covering certain geographic locations only. This creates an opportunity for FluidOne as an aggregator building out our national network of data, offering best fit services per location and a mix of services and suppliers for a combined solution. In this, investing in the reseller channel is key to growth. There will be a scaling up of capabilities in areas such as product management, software development and project management to create a more robust support structure."
Horton's previous experience includes many leadership roles across the telecoms and IT sectors. His career began in accountancy in 1990 and he took his first job in comms four years later joining Securicor Cellular Services which grew to £220 million revenue and 440,000 mobile subscribers before exiting to Martin Dawes and O2 in 1998. Horton went on to lead the design and build of MoBill, an award winning end-to-end web portal, customer care and billing system which added significantly to the sales value of Isis Telecommunications Management when it was acquired by Vodafone in 2006. 
Horton then co-founded and became Managing Director of Flexphone. A stint at Daisy as Commercial Director followed and in 2011 Horton joined IP Integration where he gained experience in complex project engineering and managed services. In 2014 he was headhunted by Elite Group and as COO helped grow the UK business from £30 million to £57 million revenue in under four years.
"A big lesson for me was being involved in several acquisitions at a large company that led to unplanned levels of staff and customer churn impacting the value acquired," added Horton. "I learned a much better approach that I was able to use at IP Integration and Elite Group, which meant we put retaining clients and key staff at the heart of our integration plans and that way better maintained and grew the value of the acquired businesses."
Horton pinpointed cloud, Unified Communications, mobility and the IoT as rapidly growing markets with a projected five year CAGR of over 16 per cent, making connectivity and mobile 'great markets to be operating in'. "Software Defined Networking and SD WAN will have a significant impact over the next three years, and as an independent with our network core already in place to support these services it allows us to be at the forefront of developments in this space," commented Horton. "I have some exciting product launches to announce in the coming weeks.
"The business opportunity for resellers is strong but they need to build skills and capabilities in delivering bespoke and personalised services. Suppliers are constantly innovating and expanding their solution ranges, and customer requirements are fast evolving. The pace of change and complexity experienced by organisations means there is a great opportunity for value added resellers to be the expert and bring together different supplier services to create the right solution for each customer."