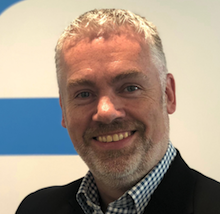 FluidOne's investment in SDN technology will be key to achieving CEO Russell Horton's (pictured) five year goal to treble the size of the business, with a channel expansion strategy at the heart of his growth ambitions.
The data connectivity provider's in-house development team has created Ethernet on Demand (EoD) and to support its launch the London-based company has formed closer links with network partner Sky which rolled out its own channel Ethernet proposition month. 
Sky's network provides availability in over 2,800 Ethernet exchanges and FluidOne's SDN functionality for Ethernet leased lines gives partners the ability to quote, order, manage and flex bandwidth up and down on demand in seconds using FluidOne's Dash Portal, part of Platform One, its national fibre network. 
FluidOne has collaborated with Sky's Business Communications division for two years and the addition of SDN to Platform One's existing integration with Sky's carrier grade network enables it to offer enhanced Ethernet services from Sky to customers and partners. 
"The SDN layer will facilitate ongoing releases of distinctive software defined network features over the coming year," stated Horton.
"Ethernet on Demand is particularly strong in industries that have variable or seasonal trading and operational performance across the year. 
"Retail, hospitality, events, travel and education all display peak bandwidth needs in busy periods. During term time at a school, for example, Easter and Christmas for retailers or in the summer holidays for travel firms. 
"EoD allows our partners to see their actual bandwidth utilisation and ramp up to meet these seasonal requirements and back down again to a steady state norm for the rest of the year."