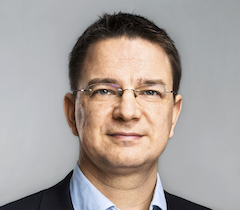 Under new ownership Nordic software house PacketFront Software aims to orchestrate and automate the UK's 'manual' networks and processes into the 21st Century, says VP of Sales Timo Kuusela.
Network orchestration firm PacketFront was snapped up by Virtual1 in July this year. The Swedish-based software house provides network automation solutions for telecom operators, city carriers and enterprises in more than 20 countries. PacketFront will operate as a stand-alone organisation and maintain its own brand, customer base and senior leadership team. "Having helped FTTP providers get to market quickly and operate efficiently across the Nordics, we see an exciting opportunity with the new wave of FTTP suppliers emerging in the UK," said Kuusela.
PacketFront Software was established in 2011 as a spin-off from PacketFront Solutions which sold both hardware and software products. The idea was to create two independent companies to give the software side a better opportunity as a multi-vendor solution. "We found that having our own hardware made it difficult to cooperate with other hardware vendors so forced the separation to focus on the core business – software," said Kuusela. "The objective was, and is, to offer network orchestration and CRM solutions to altnets."
The first major task was to build an independent software business within the altnet market space and prove that it could work with other hardware, while maintaining its existing customer base. "The second milestone was broadening our portfolio to support carriers," noted Kuusela. "Services in the residential altnet market are quite straightforward – you're selling Internet. In the carrier space services are much more complex. One of our early adopters was Virtual1 which has achieved fantastic results. The third milestone was attracting Tier1 and Tier2 carriers as customers. Good examples include Tele2 in Sweden, GlobalConnect in Norway and recently Gamma here in the UK. Many of the bigger carriers still do a lot of manual work. So we show how they can avoid tasks like CLI typing and instead focus on system architecture to give better services."
For altnet customers, PacketFront Software provides more complete solutions including self-service portals for end customers, CRM systems and network orchestration. Those components create an end-to-end solution that delivers automated workflows for customer and service management. "When it comes to carriers we mainly focus on network orchestration," commented Kuusela. "Our BECS solution provides auto provisioning from customer devices all the way to their core network. By integrating BECS with CRM systems like Salesforce, operators can create workflows that, for example, allow for zero-touch network build out and automated service provisioning."
PacketFront Software's annual average turnover growth rate is circa ten per cent. It's main focus is Europe with the Nordics its primary market. "Now the UK and Germany are great markets for us to expand into," stated Kuusela. "We have a market presence in both but there's a lot of potential as they are large markets behind the Nordics in their FTTP roll out. The UK is predicted to be the fastest growing FTTP market in Western Europe in the coming years. We have had customers in the UK for years, but have stepped up our efforts by opening a local office.
"In the UK we also see a trend towards open access. Altnets are interested in opening up their networks to other service providers. This has been the dominant model in the Nordics, and PacketFront has been the pioneer supporting that business model from the very start, which we now want to utilise in UK markets."
The main challenge Kuusela faces is the slowness of transformation. "We hear so many customers say 'we need automation' but never actually get started with it," he said. "In the past, when we researched altnet and carrier markets and asked if they need automation and network orchestration there was resistance on both fronts. While both were interested on a theoretical level, operators were hesitant to change their existing working methods. But network orchestration has become mainstream in the last few years which means we now don't have to drive those motivations. It has become more a matter of technology choices. A key discussion now is around Software Defined Networking which has really driven this network orchestration piece."
Another challenge faced by the company has been how fast it can scale while accounting for the diversity of how operators build their networks, and the number of software and hardware vendors it needs to integrate. "Every new customer has meant creating a unique environment," added Kuusela. "However, we have proven over and over again that we get our solution to work in any environment. Now, when technology is well proven the main opportunity for us is to scale the business more aggressively, especially to address new geographical areas."
Kuusela's primary growth strategy is to work with more system integrators and technology partners that complement PacketFront Software's portfolio. He is also looking for new technology partners to expand the firm's ecosystem.
"This will help customers and system integrators as we can show how systems work together and the combined benefits," he added. "One of our key technology partners in the UK is KeyPro which provides a GIS solution. This co-operation enables us to show the benefits of including passive network management into a business equation.
"Customers need flexibility – from a commercial and technology point of view – to select the best of breed software and hardware and we provide that. We have workshops with our customers to identify their pain points and low hanging fruit, where we can provide the fastest benefits. Then we help with implementation. All our customers' networks are different, even if they use the same hardware and provide the same services, they all have different workflows and supporting systems. We adapt our solutions to work in the existing network environment which is also where we support operators when they need us."
All in the industry know that technology moves quickly. Even so, Kuusela sees too many organisations sitting on their hands, even when they can see the business case. "This slow adaptation usually stems from businesses making things unnecessarily complicated," he said. "When an organisation finally comes to action they typically try to solve all of their problems at once, which is usually a recipe for disaster. The key is to slice problems into sections and work one by one. Usually, just getting systems up and running can be done in a month or two which brings immediate benefits.
"Everybody is looking at investing in network automation in some way or other because they can see the benefits it brings. For those dragging their heels, my advice would be to ride the wave soon or expect tougher times moving forward, because you won't be as competitive in a couple of years."
Just a minute with Timo Kuusela...
Role model:
Barrack Obama: There aren't many politicians that are as genuine with such high moral foundations. He is also an inspiring thinker and orator. While he didn't succeed in everything he set out to achieve as President, he had a clear vision and the will to pursue that vision.
Tell us about one fear you have managed to overcome:
Speaking in front of a crowd. But to succeed I needed to overcome that fear by repeatedly challenging myself in that situation. After a while public speaking became much easier.
The biggest risk you have taken?
Starting my own company with five former colleagues. We produced our own CPEs including hardware and software and in three years expanded the company from zero to £5.5 million.
Best piece of advice you have been given?
My former manager at Ericsson asked, 'why don't you go into sales?'. That question determined my career path ever since.
If you weren't in the ICT industry what would you be doing?
I'd be a mathematics teacher.
What was your first job and when?
My career began with a summer job at Ericsson Finland in 1992. This is where I got into the IT field and where I progressed to become a Software Developer and Tester before going on to specialise in telecommunications in my MSc.
Top tip for resellers:
 Think about how you reward your sales organisation. If you only reward short-term or fast deals, that's what you'll always get. If you want long-term customer relationships you need to have OTE programmes that take this into account.