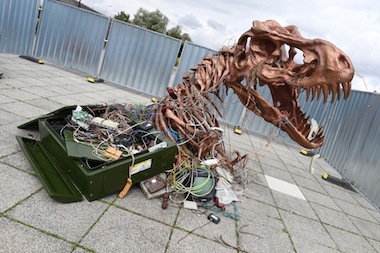 CityFibre deployed impactful visual tactics in its latest anti-copper campaign which has been designed to deliver more bite with the roll out of Coppersaurus, a model Tyrannosaurus skeleton built to represent what the alternative full fibre provider says is the UK's 'prehistoric broadband'.
 
Research commissioned by the company reaffirmed that swathes of the nation's broadband users are not happy with the quality of their connection nor its speed. The majority of those taking part in the survey also believe that broadband advertising rules should be changed.
CityFibre CEO Greg Mesch said: "For too long the UK has been held back by a lack of investment in fibre infrastructure. 
"Although companies like CityFibre are building the networks that will give millions of homes and businesses access to full fibre broadband, providers continuing to advertise copper-based connections as 'fibre' is leaving people confused about what is on offer.
 
"The way we work is increasingly blending our home and work lives so it has never been more important for people to understand what broadband connection they really get at home. 
"Years of misleading advertising have made this near impossible, which is why the rules must be changed now. Therefore we call on all interested parties to lobby the Advertising Standards Authority and set the record straight as part of our Coppersaurus campaign." Visit www.coppersaurus.com