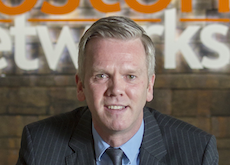 Boston Networks has swooped on its second acquisition target since Aliter Capital took a stake in the business a year ago.
The Glasgow-based integrator snapped up 2020 Vision Systems, the North Shields located security business, as it seeks to establish a stronger foothold in the mid-market and extend its geographic reach.
The financials of the deal were not disclosed and the acquisition builds on Boston Networks' purchase of London-based PEL Services in April 2018.
2020 Vision Systems brings expertise in IP security technology, video surveillance, access control and converged security solutions and has a particularly strong presence in north east England and the midlands, with a satellite office in Birmingham.
The deal boosts Boston Group's staff numbers to 170 and it is understood that the 2020 management team will continue in their positions while MD Peter Houlis exits the business but remains on hand as an advisor.
"We will leverage 2020's experience of working in key areas of critical physical security, which will help us to drive towards the next phase of our growth as we focus on applying technology to improve the performance, safety and security of people, buildings and assets," stated Boston Networks CEO Scott McEwan (pictured).
"In particular, this acquisition deepens our services in the further education sector, enhances our existing security offering through the cloud platform and spreads our geographic coverage."
Boston began its commercial life in 2000 and now operates as an integrated technologies business working across IT network infrastructure, with a focus on IoT, life safety, security and smart building solutions.
Greig Brown, Partner art Aliter Capital and Chairman of Boston Networks, added: "2020 Vision Systems is a great addition for the Boston Group. It is a significant step forward in our plan to create a national provider of integrated life safety, security and networking services in key sectors, specifically targeting mid-market UK-based blue chip companies."
Notable contracts won by Boston include the Queen Elizabeth University & Children's Hospitals, the 2016, 2017 and 2018 Open Golf Championships and the 2018 Ryder Cup.
The company recently secured a contract with AGS Airports to upgrade the Wi-Fi infrastructure at Aberdeen, Glasgow and Southampton Airports.
Boston is also leading the £6m project to build and operate Scotland's national IoT network.