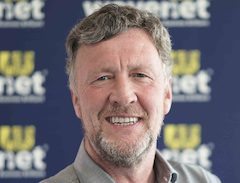 Wavenet has new owners following Beech Tree's  sale of the business to Macquarie Capital in a deal that has ramped up the Solihull headquartered ICT provider's growth ambitions. 
Since Beech Tree's investment in 2016 Wavenet has grown from £14m turnover to £60m-plus via  a combination of acquisitions and organic growth.
Investments in people, network, products and systems enabled Wavenet to support large scale enterprise solutions, while its recent acquisitions of VIA, Townley and Qubic provided the infrastructure to deliver a suite of connectivity, cloud and cyber services, and move into the ITaaS space backed by a partnership with HPE.
According to Wavenet CEO Bill Dawson (pictured) the partnership with Macquarie will provide a further boost to growth potential.
"We will continue to build on this growth as we enter our new partnership with Macquarie," he stated. 
"The passion and quality of our people, management and infrastructure combined with Macquarie's experience will drive us."
Adam Joseph, Head of Private Equity for Macquarie Capital, added: "We are using our experience from growing other UK businesses to support the development of Wavenet from an organic and acquisitive standpoint."