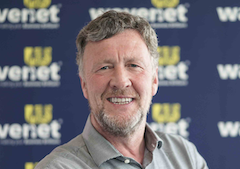 Macquarie Capital-backed Wavenet has joined the £100m revenue club following its acquisition of Excell Group. The finances of the deal, which is Solihull-based Wavenet's biggest transaction to date, remain undisclosed. 
The acquisition bolsters Wavenet Group's market share in the cloud and workspace market, strengthens its London presence, increases its scale and creates one of the UK's biggest MSPs. 
The Excell acquisition is the third addition to the Wavenet Group since Macquarie's majority ownership was announced six months ago.  
Excell Group has grown steadily since its inception through both organic and acquisitive means, expanding its network, portfolio and creating a business centre service for landlords and serviced offices. 
With the acquisition of NTS Communications and Internal Systems, Wavenet now provides services to over 10,000 businesses.
Wavenet CEO Bill Dawson (pictured) said: "Excell is the largest and most exciting acquisition we have made to date, bringing new services and a talented team into the Wavenet Group. 
"This acquisition represents a huge step forward in our growth plans, giving us a stronger presence in the south of the UK and adding experience in growing service areas including flexible workplaces and cloud."
Excell Group Chairman Darren Strowger added "Following almost 30 years of growing our business into a dynamic organisation we felt the time was right to take the next step. 
"Wavenet's vision and values align with those that we already hold at Excell, which will not only enable a smooth integration, but will quickly enhance the service provided to our customers."
Adam Joseph, Head of Private Equity for Macquarie Capital Principal Finance Europe, noted: "The Excell acquisition is the third in six months and significantly grows the business. We will continue to support the Wavenet management team to provide vital telecommunication and connectivity services to the UK's SME and public service customers."
Excell was founded in 1992 as a family run business  and now has a headcount of 180, providing services to more than 7,000 businesses. It operates from offices in Cambridge, London, the midlands and south east.
In May 2021, Wavenet announced its sale to Macquarie Capital Principal Finance, the principal financing and investment arm of the global financial services company Macquarie Group.
Formed in 2000, Wavenet is a Premier Certified Cisco Partner, Microsoft Partner and holds Platinum Partner status with Mitel, Five9 and Silver Peak. It has offices in Solihull, Chester, Norwich, Cardiff, Nottingham and St Albans and employs 250 people.