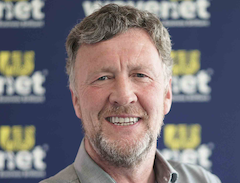 Wavenet's presence and influence in the south region will be more strongly felt following its acquisition of St Albans-based Qubic Group.
The deal takes Wavenet's 2020 acquisition tally to three, adding to its purchases of VIA and Portal earlier in the year.
Qubic owners Joe Papa and Chris Papa said: "Being part of the Wavenet Group will build on the portfolio of cloud-based voice and data solutions that Qubic is already offering customers."
Wavenet CEO Bill Dawson (pictured) added: "Welcoming the Qubic team into the Wavenet Group provides some positive news in what has been a challenging year for many. 
"Qubic shares the same values that drive the team at Wavenet and the combination of our collective expertise will boost our cloud and technology experience while giving Qubic's customers access to Wavenet's solutions portfolio."