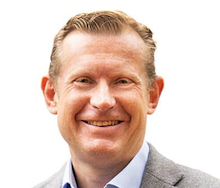 US infrastructure investor Alinda Capital has acquired Glide Group from Inflexion. Glide provides broadband, networks and utilities for student accommodation, house-sharers and SMEs. The company was called CableCom at the time of Inflexion's acquisition, and in June 2018 rebranded to Glide having acquired WarwickNet in January 2017. 
Alinda is an independent alternative asset manager focused on mid-market core-plus infrastructure investments in North America and Europe. Jim Metcalfe, Managing Partner at Alinda, said: "Digital infrastructure is a priority area of focus for us."
The sale follows a six year period of growth for Glide which designs, installs and manages fibre networks reaching 100,000 premises and approximately 250,000 customers.
Tim Pilcher (pictured), CEO, Glide, said: "With Inflexion's support we were able to complete two transformational strategic acquisitions."
Simon Turner, Managing Partner, Inflexion, added: "That Glide attracted strong interest at this time is vindication of its transformation."