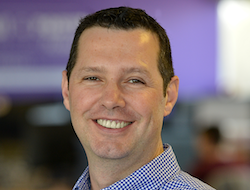 Purple WiFi's capabilities in maximising intelligent spaces has received a boost following the acquisition of US wayfinding business LogicJunction.
The deal brings together LogicJunction's indoor navigation technology (which uses the Earth's geomagnetic forces for greater accuracy) and Purple WiFi's data analytics.
The acquisition also provides a platform for growth in the UK and US.
Manchester-based Purple confirmed that LogicJunction will operate under the Purple brand.
In practice Purple's WiFi platform helps businesses to monitor peoples' shopping patterns and habits, allowing them to target their messaging and leverage analytics tools.
"LogicJunction enhances the Purple portfolio with wayfinding technology, providing indoor navigation and location-based systems, allowing them bolster their intelligent spaces proposition to their clients," stated Purple CEO Gavin Wheeldon (pictured).
 
"With GPS technology ineffective indoors, wayfinding is a system that guides people through a physical environment and is particularly important in complex built environments. 
"It has been identified as the future technology for navigating large urban centres such as shopping centres, supermarkets and hospitals.
"As architectural environments become more complicated and as consumer needs shift to more personalisation, indoor positioning and location-based are becoming core to organisations across every industry."