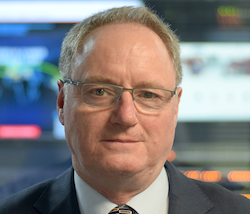 An LDC backed MBO at Buckinghamshire-based Phoenix Datacom puts the security firm on the road to portfolio expansion and opens up the potential of future acquisitions.
The deal sees former UK President of BT Global Services and CEO of Alternative Networks Mark Quartermaine join as Non-Executive Chairman. 
"We're seeing a high demand from organisations wanting to ensure they have cutting edge technology to scale their networks and protect against cyber threats," said MD John Carson (pictured). 
"With LDC's support we will be able to maximise this opportunity so that we can build, scale and enhance our product and service offering."
Chris Morris, Investment Director at LDC, added: "The team at Phoenix Datacom has a 30-year track record of providing secure data network solutions to a blue-chip client base. 
This is even more impressive considering how the market's complex landscape continues to evolve and customers need for the latest capabilities as network performance and security become ever more important."
Phoenix Datacom was established in 1984 and serves blue-chip clients including financial institutions, network operators, media businesses, broadcasters and public sector organisations.