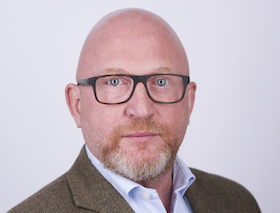 LDC-backed Onecom has snared close rival Olive Communications to create a comms sector powerhouse with 500,000-plus corporate and business end users and a combined annual turnover of more than £140m.
The acquisition was supported with follow-on funding from mid-market private equity firm LDC which invested in Onecom in a £100m deal in July 2019 to fuel the Hampshire-based business's ambitious three-year growth strategy. 
Growth capital investor BGF, which invested £10m into Olive in 2016, has exited the business as part of the deal.
Olive's Chief Executive Martin Flick (pictured) is appointed CEO of Onecom Group. 
Darren Ridge, who founded Onecom in 2002 and has grown the business to achieve annual revenues of more than £90m, remains a significant shareholder and will be active in his Non-Executive Director role. 
The newly-expanded Onecom Group will continue to be headquartered at Whiteley, Hampshire.
Buckinghamshire-based Olive Communications has grown through organic and acquisitive means to more than £31m in annual revenue, pivoting its proposition in 2014 from being mobile only to become a cloud communications provider.
The acquisition brings together two of Vodafone's most successful strategic partners. 
Onecom has been recognised as Vodafone Strategic Partner of the Year for  10 years, while in 2020 Olive was awarded Vodafone's Innovation Partner of the Year Award.
Ridge said: "We have seen Olive as healthy competitors for years. 
"The inevitable changes to working patterns across the UK and globally as a result of the pandemic have accelerated the need for integrated cloud communications and significantly increased demand for transformation and digitalisation.
"Bringing these two businesses together will significantly benefit our customers, partners and stakeholders and employees."
Flick added: "Our combined scale, expertise, experience and proximity to customer need affords us the perfect proposition to help customers of all sizes to navigate their journey through the short and long term economic landscape, leveraging technology from our established and emerging strategic partnerships, including Vodafone, Mitel, Google, Microsoft and others.
"Our ultimate objective this year is to help our customers continue to navigate the pandemic and to be market-ready to transform, adapt and evolve their businesses with cloud communications technologies."
Yann Souillard, Head of London at LDC, said: "This marks the third acquisition Onecom has made since we invested in the business back in July 2019, and the combination of Olive and Onecom is a force to be reckoned within the UK B2B telecoms market."
Matthew Simcox, investor at BGF, said: "The merger with Onecom is a natural progression and we wish Martin Flick and his team all the best on their journey."