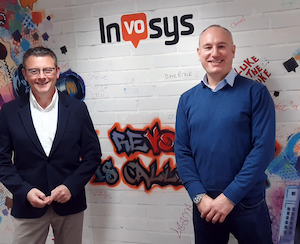 Cloud comms provider Invosys has acquired Atrium Telecom, which provides installation and maintenance services to UK partners. 
Its MD Barry Tuffs joins Invosys as Sales and Marketing Director. 
Manchester-based Invosys was established in 2006 and is best known in the channel for its cloud comms platform and call logic software. 
The deal broadens its tech support capabilities and product proposition, and boosts the availability and extent of its 24/7 offering.
"The acquisition has allowed us to tap into enhanced levels of technical support," stated Invosys co-founder Rob Booth. 
"We share an ethos and an approach, which means the team will slot in with our ideas and plans for the future."
Invosys co-founder Peter Crooks added: "This is a huge step forward on the Invosys journey, taking us to another level."
Pictured (l-r): Barry Tuffs and Peter Crooks.