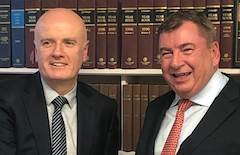 Limerick HQ'd 4site is eyeing international markets following its acquisition by Indigo Telecom Group. The deal creates a  £50m powerhouse with 300-plus employees located across 10 offices in the UK, Ireland, France, Germany and Singapore.
4site was established in 2002 and specialises in mobile wireless and fibre services, with a strong emphasis on supporting demand for 5G and FTTx networks. The transaction boosts Indigo Telecom's capabilities in designing, installing and maintaining international telecom and data networks.
Indigo Chairman Kevin Taylor said: "The acquisition complements Indigo Telecom Group's core expertise in the supply of multi-vendor telecom support services.
"The synergies present opportunities for continued growth and we see huge benefit for our customers from our expanded portfolio of services. Both organisations have strong reputations for delivering consulting, projects, delivery and service."
4site CEO Ian Duggan added: "This deal accelerates our long-term growth ambitions by becoming part of a global business. 
"With its financial backing and scale of operation, Indigo is placed to support 4site's growth plans and vision for the future, the development and expansion of our telecoms services in Ireland and the international market."
Pictured (l-r): Ian Duggan and Kevin Taylor