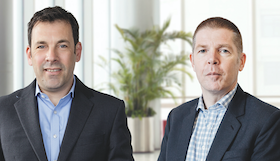 Bowmark Capital backed Focus Group has strengthened its presence north of the border following the acquisition of Glasgow-based Resource Telecom Group.
The Scottish firm also has an office in Edinburgh and was founded by MD Graeme Edgar in 1997.
Knight Corporate Finance advised the shareholders of Resource Telecom, which is its eighth deal in the last six months. 
"The robust nature of ICT businesses, generating high levels of recurring revenue has resulted in strong competition and maintained valuations," stated Adam Zoldan (pictured left), Director at Knight Corporate Finance.
According to Edgar, leveraging the expertise of the  boutique adviser for the technology and telecoms industry was key to sealing the deal.
"The team at Knight  prepared the business for sale and delivered a number of strong written offers, and negotiated a deal that met our aspirations financially."
The transaction follows two particularly high profile deals managed by Knight during lockdown.
In July Kerv merged three business with private equity backing to bring a new player to the market. 
And Knight advised Union Street on its merger with Aurora in early September.
Zoldan added: "With the exception of the first few weeks of lockdown, buyers, investors and funders have remained as hungry as ever for deals across the channel."
"Six of the eight transactions we delivered over lockdown involved a private equity sponsor, demonstrating the confidence in the channel from the investment community where we are seeing strong cash generation and growth prospects result in ICT assets being highly sought after."
Paul Billingham (pictured right), Director at Knight Corporate Finance, said: "With over 120 transactions now under our belt, we continue to work with entrepreneurs in the tech and telecoms sector to help them achieve their ambitions for their business. The ICT channel deserve huge praise for their dynamism and flexibility in keeping the UK open for business."