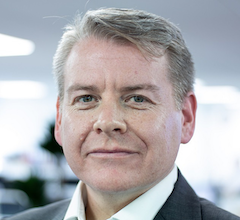 Solihull-based Convergence Group's capacity to scale up received a boost following the acquisition of Oxfordshire located network infrastructure business LAN3.
The deal also boosts Convergence Group's revenues by over 15% and advances its pay-as-you-go subscription model which Convergence Group MD Danny Masters (pictured) says reflects the simplicity of paying for a utility, which he also claims is disruptive in the industry. 
"Together, we are determined to shake up an industry that is traditionally inflexible in how it delivers for consumers," he stated. 
LAN3 MD Martin Jones added: "Joining Convergence Group enables us to deliver for our customers on a greater scale, offering them flexibility, technological freedom and autonomy over network connectivity.
"LAN3 customers will now benefit from being part of a larger group and have access to a deeper pool of resource, products and services."
Convergence Group was founded in 2004 and provides connectivity services to public and private sector organisations across the UK, supporting nearly 800,000 business user connections.