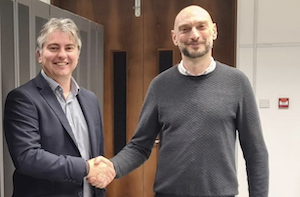 Yorkshire-based Netcom Technologies has been acquired by Merseyside located Aabyss.
The deal extends the  IT consultancy's reach across the north of England and follows the acquisition of Bolton-based Tandem Systems in 2019. 
Aabyss CEO Andrew Allen stated: "We seldom find the right quality of firm to join the Aabyss family but Netcom is a perfect fit, representing enhanced benefits for our people and clients."
Netcom MD Mark Kindred added: "The cultural fit and complementary service portfolio creates an opportunity to bring our collective expertise to a wider audience."
All employees of Netcom will be retained.
Pictured (l-r) Andrew Allen and Mark Kindred