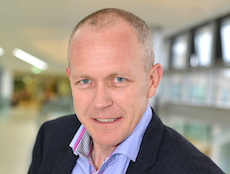 Fareham-based Onecom has secured a £100m funding package from mid-market private equity firm LDC and credit funds managed by an affiliate of Ares Management Corporation. The move sees Mark Thompson become Chairman and Onecom founder Darren Ridge, who remains a significant shareholder, becomes a Non-Executive Director.
Thompson formerly ran MDNX which, trading as Easynet, sold to Interoute for £402m in 2015. Since then, Thompson has successfully supported several boards, including G3 Comms.
Onecom currently manages nearly 100,000 business customers and employs 400 people across 10 regional offices. Its partners include Samsung, Apple, Gamma, Mitel and Virtual1. 
It is also a major partner of Vodafone, and last month announced a five-year deal together that will be worth up to £600 million in revenue.
 
Onecom CEO Ben Dowd (pictured) said the investment from LDC will be used to help meet the significant growth plans that Dowd and his management team have been working on. 
Over the next three to five years they expect to increase the workforce substantially, invest in systems and processes that ready the business for scale, and make acquisitions. O
"Onecom is in a position to take full advantage of the opportunities presented through continued convergence in the communications sector and the expansion of digital infrastructure, including the rollout of 5G and superfast fibre," he said.
 
"We have worked very closely with LDC over the last few months and they share the same level of ambition as we do.
"This investment will help accelerate Onecom's growth organically and inorganically.
"The opportunities that exist for Onecom are significant both from a partnership and an acquisitive perspective. 
"The market is ripe for consolidation and Onecom can play a big role in this across mobile and fixed solutions where there is a huge number of resellers."
LDC Head of London Yann Souillard commented: "Ben and the management team have a clear vision and ambition for the business and a credible plan to deliver it"