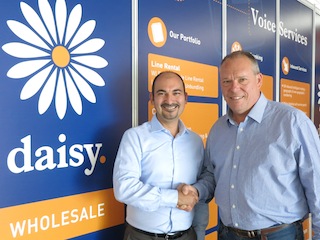 Daisy Wholesale has added telecoms data analytics to its Hosted Voice Exchange (HVX) solution following a link-up with Tollring.
 
The collaboration sees Tollring provide white labelled call reporting that integrates with the HVX cloud telephony platform, enabling customer-facing teams to monitor inbound and outbound calls on any mobile device. 
 
Through a series of reports, dashboards and wallboards which have been optimised for mobile devices, managers can monitor caller tolerance, percentage of calls answered, abandoned calls and unresolved missed calls. 
 
Graham Harris, Product Director for Cloud at Daisy Wholesale, said: "Strengthening our solution with detailed reporting capabilities means that our partners can go to market with a hosted voice product that not only provides high quality voice communication, but the tools for end users to analyse business-critical data in order to enhance performance.
"And because the application is accessible via mobile devices, it means that we can support the increasingly popular trend of flexible working in the SME market."
 
Tony Martino, MD of Tollring, added: "Not only is our company at an exciting stage of global development, our solutions portfolio has never been stronger. Product development lies at the heart of our organisation to deliver the latest technologically advanced data intelligence solutions."
Pictured: Tony Martino and Graham Harris