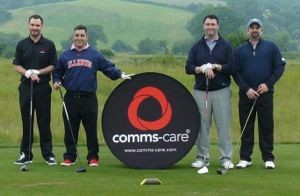 Comms-care has hosted a Ryder Cup experience at its annual Partner Golf Day at the Celtic Manor 2010 Golf Course.
Kelway emerged as the wining team with prizes for runner up, best individual score, longest drive and nearest the pin also handed out during the evening, as well as some joke prizes such as worst dressed, most in the water and Mr Sand man for most time spent in the bunkers.
Richard Eglon, Marketing Director, said: "This is our pinnacle partner event of the year where we get chance to say thank you to all our loyal partners. It is a competitive day where many stories are shared afterwards of how the 2010 course picks up and spits out the best of golfers. That said, our partners still feel it is the number one course to play in the UK so that is why we keep returning each year."