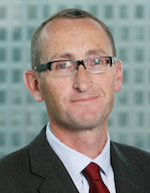 UK tech firms will grow four times faster than GDP this year with the ICT reseller channel at the vanguard of market expansion. In Barclays' just-published Fast Growth Tech survey ICT business leaders predict an average 11% growth with some expecting growth of over 20%.
Sean Duffy (pictured), MD and Head of Technology, Media and Telecoms at Barclays, said: "These predictions reveal the optimism and drive of the UK's tech sector and there is no doubt that the channel will continue to play a significant role within the overall tech industry's impressive growth.
"Strong growth factors for the comms and IT channel are largely driven by its clients being willing to invest in more efficient and scalable solutions that not only increase efficiencies for the end user, but also provide an improved return on investment for their company."
avsnet MD Graham Fry also attributes these bullish forecasts to the transformational power of ICT.
"Communications and collaborative technologies have already demonstrated their ability to improve every aspect of business, so it is not surprising to see such large growth predictions facing the industry," he said.
"As organisations focus on driving business efficiency and identifying technology strategies that cut costs, they are investing heavily in the communications tools and IT services that enable these outcomes."
In what Duffy calls a 'supercharged environment' it is the ICT entrepreneurs with strong leadership skills who will flourish most robustly, says Duffy.
"Strong leadership rings loud and clear as being critical for growth, particularly important in the first few years of a business' life," he said.
"Leadership is even more relevant for fast growth businesses experiencing unique stressors and demands on their cash flow, requiring their leaders to make many major decisions at speed in order to keep pace."
Rainbow has generated just under 15% growth over the past two years driven by demand for 'all things hosted', explained MD Dave Corgat.
"It is important for business leaders to make changes to their organisation to meet these new demands," he said. "Rainbow has invested heavily in CRM so we can better integrate with our customers, suppliers and staff."
GCI CEO Wayne Martin observed: "Confidence is definitely coming back. We have seen this from the quality and breadth of solutions that our partners are bringing to us.
"The rebuild of our network and cloud platforms has enabled us to take advantage of these excellent growth predictions."