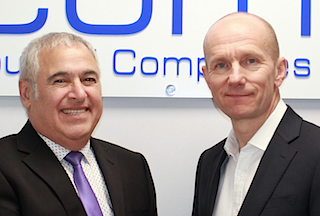 BDR Voice & Data Solutions has acquired a majority stake in Aylesford-based Icom Holdings, a move that brings to market a broader portfolio of products and services and provides a springboard to significantly boost the group's current £20m turnover.
According to BDR's CEO Bahman Rahimi, Icom's presence in the private and public sectors reflected BDR's operations and were therefore of particular interest.
"Icom's strength and relationships in the public sector as a Government Framework Supplier made it a desirable acquisition and a natural partner," he stated.
"BDR and Icom have an aggressive plan for expansion and intend to increase staff numbers during 2018."
Icom's board of directors will remain with the business and operate from their base in Kent.
Icom's MD John Donoghue said the deal followed a lengthy search for a likeminded business partner.
"The acquisition will strengthen Icom and ensure that we achieve our long-term goals," he stated.
"I took a great deal of care and diligence with this sensitive task, and I now feel rejuvenated and excited to work alongside Bahman to take the group forward."
BDR, based in Stratford-upon-Avon, scooped the Comms National Award for Best Enterprise M2M/Wireless Solution in October last year.
Pictured above (l-r):  Bahman Rahimi and John Donoghue