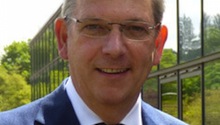 AIM-listed cloud services and data centre co-location provider iomart has reported a solid set of results for its full year ended 31 March. Revenue was up 9% to £112.6m and adjusted EBITDA was up 3% to £43.5m.
The company also said profit before tax went up 4% to £16.8m, although the proposed final dividend has been slashed by 22% to 3.93 pence per share, as the company saves cash to protect itself from any effects of the ongoing pandemic. 
The cloud services organic growth rate increased from 2% to 6% in the year. The firm said increased investment in its sales engine had led to several multi-million pound, multi-year contracts being secured.
The company is organised into two segments of Cloud Services (£99.8m) and Easyspace (£12.8m). In February 2020, iomart acquired ServerChoice and in March 2020 it snapped up Memset. Neither had a material impact on the revenue total for the year. Reece Donovan was recently appointed as chief operating officer to prepare the group for the next stage of growth.
"A robust business model and strength of offering is providing resilience during the Covid-19 lockdown," said the company. "The group has traded in line with management expectations in the first two months of the new financial year, consistent with the group's high recurring revenue business model."
It added: "Business development continues, with good discussions with both new and existing customers, although timing of new projects is likely to be more uncertain for the remainder of this calendar year."
Angus MacSween, CEO of iomart, said: "This is the twelfth consecutive year of growth since the transition of the business to cloud services in 2008 with the acquisition of our first data centres.
"As we look forward to the next stage of growth, we do so with our teams all working remotely and the world around us considerably changed due to the global impact of Covid-19. 
"The switch to remote working across the world has only accelerated the move to the cloud, which we believe will be a growth driver for our business over the longer term."