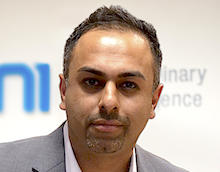 For Manchester-based Vaioni Wholesale, digital transformation leadership in the channel is beckoning...
...so let's see how Managing Director Sachin Vaish built a strong and rapidly growing contender, from scratch, in the fast moving and critical connectivity space.
Fresh from a two year stint working in the banking and manufacturing sectors and seeking to re-experience the excitement of a childhood immersed in the first wave of computer games, a budding Vaish plunged into the tech sector, setting up a small IT business that was founded more on enthusiasm than industry knowledge. "It was the start of the Internet boom, so exciting times," stated Vaish. "This is still an amazing industry."
Vaish sold the business in 2006 and with the same sense of timing that aligned his first enterprise with the Internet boom he established Vaioni Wholesale in late 2008 just as Ethernet was taking off from the launchpad. "But the industry was slow to move, cumbersome and a hassle, with only four major players in the market – BT, Telewest, NTL and C&W," stated Vaish. "Getting anything out of these guys that remotely resembled a quote within a timely period was a struggle. So I built a connectivity company that enables businesses to procure Ethernet faster, easier, and supported by customer service."
A big challenge for any start-up is reaching the £1 million turnover milestone while also being profitable, which Vaish achieved with aplomb. Another turning point was a fundraise in 2013. "This process was a journey of learning and discovery about how good the business really was," he added. "When we signed the deal I recalled how it all started in a small rented bedroom. The company is burgeoning now, we have a recurring revenue base, key staff in every department and a network carrying traffic that is visible."
Vaioni Wholesale aggregates operators, technologies and connectivity products and currently serves over 200 UK partners; and Vaish counts himself as one of the first providers to offer an automated quote portal, which was launched in 2011, and an online ordering function. "Our Ethernet footprint (VEN) extends across 200,000 postcodes, so we really get our industry," he explained. "We have our transaction customers, who just need us to be competitive and engaging no matter how small the requirement or challenge. And bigger partners who need us to be agile, available, strategic, deliver on time and help outsmart the competition. When you are dealing with multi-million pound contracts and the partner is fully reliant on you and your capabilities, the relationship is truly tested."
There is a fine line between success and failure when you make big changes, particularly with people
Vaish identified his primary growth market as larger bandwidth businesses where there is a need for automation to facilitate what he calls 'hyper-technology' – where customers can apply real-time changes to in-life service. "It's about providing an agile set of technologies and tools to give customers the best infrastructure possible," commented Vaish. "So we are putting a huge focus on developing our network, core and LLU, automation and product development to hopefully one day lead the digital transformation market."
He expects Vaioni Wholesale to grow by 20 per cent this year and forecasts a 300 per cent hike in profit. Not for nothing has the company been recognised by the Northern Tech Awards as one of the fastest growing technology firms. "We are aiming to employ 65 people during the coming 12 to 18 months," added Vaish. "These numbers reflect the recent requirement for me to bring in a leadership and middle management team. Relinquishing responsibility while ensuring high productivity brings its own challenges. Good managers benefit the business. Bad ones damages us. There is a fine line between success and failure when you make big changes, particularly with people."
With a strong leadership team in place Vaish is now focused on refining the business through automation and innovation. "To spark innovation there is nothing better than a brain storming session," he explained. "Markets and vendors also play a significant role in what happens next. Consider SD-WAN – new technology and a lot of hype! But it gets people thinking about technology in different ways. Then we have partner engagement. We spend time with our key contacts to understand their challenges and customer demands and assess how we can address them. The combination of these approaches helps us to think better, build better and innovate with precision."
Vaish believes that innovation in the industry is at an all time high and he is especially interested in the potential applications of Artificial Intelligence. "Amazon is looking at predicative ordering – predicting what you will need to buy next, ordering it for you and delivering the same day," he commented. "In our industry, we can think about how AI can drive more efficiency across our networks, automating certain tasks, automatically changing the flow of traffic away from potential at-risk links or possible congestion where it exists. We can extend this out to the customer through more intelligent management and efficiencies when building and maintaining networks."
That Vaish should ever mull over the impact of AI on his business was unthinkable when he formed the company 11 years ago. Then again, there was no time for such contemplation. "From the outset I did a lot of the selling, marketing, invoicing, service delivery and tech support myself," he said. "When you run a business it can be stressful and emotionally draining, especially in the early years. It can make you unwell if you are not careful. The key to managing pressure is to work hard, play hard, take time out, think about the bigger picture and accept that you cannot do everything yourself – while having fun! This way we will become a key player in the market. The wheels are already in motion."