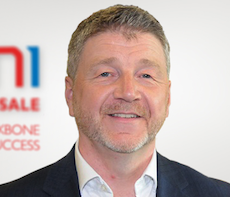 The ongoing ascendancy of Vaioni Wholesale is inevitable, and Sales & Marketing Director Mark Curtis-Wood has a solid plan for it.
If Curtis-Wood sticks to his plan he will drive Vaioni Wholesale's annual revenues to £30 million within four years. How? By introducing new products and services and adding more customers through organic expansion and acquisitions. "The sales strategy is also the foundation of that growth plan along with the right team of people," added Curtis-Wood. "I have taken time to rebuild the wholesale team, bringing in a new Sales Manager and three experienced account managers who know and understand the channel. We have to recruit well. One of my targets is to have the best trained salesforce in the industry."
Curtis-Wood joined Vaioni Wholesale in April last year, and wasted no time in strategising a business plan that received a big boost when the company secured a multi-million-pound investment from Panoramic Growth Equity in August. "Our greatest asset is our cloud-ready National Ethernet Network," he added. "We are using this to build out the next generation portfolio that will enable our partners to take voice, UC, security, 4G and 5G products all built on the same infrastructure."
Vaioni Wholesale generated double digit growth over the last five years and achieved a 23 per cent hike in its latest financial year. These figures are surely a feather in the cap of Managing Director Sachin Vaish who, prior to Curtis-Wood's appointment, ran sales, marketing, product and commercial himself. Vaish also kicked off operational improvements such as automating systems alongside investments in taking the software development function from one person to a team of five. "This will allow us to remain agile," said Curtis-Wood.
Key technologies occupying Curtis-Wood's thoughts are next generation mobile networks, 5G and Artificial Intelligence. "5G will pose a threat to the lower level connectivity market by offering low latency, higher bandwidth connectivity that can be rapidly deployed," he stated. "That's why we have mobilised our network and embedded the technology to offer 4G and 5G and give our customers the same benefits of our fixed network anywhere and on any device. The move to SDN is another key shift. Customers have more control and by leveraging AI, Machine Learning and automation we can give them the flexibility they need."
I was keen to focus on sales and marketing again and use my commercial and product development skills in a technically-led business
Analytics tools that provide an understanding of the data points that drive a business are also in demand. In response Vaioni Wholesale has incorporated Insight as a Service into its voice offering. "Voice is no longer about who can offer the cheapest seat price or biggest bundle of minutes, but how you can give the customer real-time access to what their users are doing so you can increase efficiency and profitability and win more business," added Curtis-Wood.
He holds the strong belief that there has never been a more vital moment for resellers to ensure that they own the pipe into their customers' premises. "But they will have to evolve to be the trusted provider of several core products and services, and some of these they may never have sold before, like firewalls, UTM and security for example," he said. "It is critical that a partner's supplier provides a full support programme to take them on the journey of digital transformation."
Just as Curtis-Wood joined Vaioni Wholesale with an ambition to realise its growth objectives, he left school at 16 propelled by a similar drive to achieve his own career potential. "My maths teacher told me I would never make anything of myself," he stated. "I used this as fuel to prove he was wrong."
At 17 Curtis-Wood sold £1,000 vacuum cleaners before setting up his first business two years later, importing electric cable from Italy. Fluctuations in the price of copper prompted a move into B2B sales working for Granada TV selling advertising, before spending most of the 90s recruiting and building sales machines for various companies as a consultant. Still not ready for the comms market, Curtis-Wood sold cars until grey imports rocked the boat around 2000.
Then he joined Genesis Communications in 2001 at the start of the mobile phone boom. It was one of the few companies recruiting people with no telco experience. "Genesis was a heavily KPI led environment which was a great fit for me," said Curtis-Wood. "I don't believe in leaving results to chance and am focused on success through definition. I quickly moved from Business Advisor to Manager to National Sales Manager, before leaving in 2004 to head up sales at Chess Telecom. After rapid growth over a three year period I left to be captain of my own ship again in consultancy before joining Nimans to lead the Network Services division."
I don't believe in leaving results to chance and am focused on success through definition
During his eight year spell at Nimans, Curtis-Wood was responsible not just for sales but the operations, billing and back office side of the business - all valuable experience that is reflected in his role at Vaioni. "I was keen to focus on sales and marketing again and use my commercial and product development skills in a technically-led business," explained Curtis-Wood. "Vaioni is a key player in the connectivity industry and I knew there was huge growth potential to take the business to a new level."
Just a minute with Mark Curtis-Wood 
 
What talent do you wish you had? 
The ability to fly. If I could be an eagle for a day that would be fantastic 
  
What do you fear the most? 
Heights: I have a weird compulsion to jump
Tell us something about yourself we don't know 
I am a master practitioner in hypnosis 
Biggest achievement
The people I have developed. Many have become seniors and business owners in their own right
 
In hindsight? 
I could have done many things differently but strong believe that everything happens for a purpose
Name three ideal dinner guests
Richard Branson, Ant Middleton and my nan
 
Your greatest strength and what could you work on? 
One of my greatest strengths is to spot trends in the market and capitalise on the opportunity; but I could work on my time keeping 
   
How would you like to be remembered? 
As someone who made a difference in others' lives by enabling them to be the best version of themselves
  
Name one thing you couldn't do without in your job
Customers 
What possession could you not live without? 
My iPhone 
  
Give one example of something you've overcome 
I was in the Leppings Lane stand at Hillsborough in 1989 when 96 people lost their lives. It took me nearly 15 years before I could go back into a football ground and watch my team Liverpool again with my son 
  
If you weren't in IT what would you be doing? 
An international motivational speaker
 
What's the biggest risk you have taken?
Setting up my first business when I was 19 
 
Who do you admire most in the channel? 
Vaioni Managing Director Sachin Vaish, a man of integrity, foresight and prepared to risk all to make the business successful. He is the reason I joined
 
How do you relax when not working? 
I meditate and practise QiGong 
  
Top tip for resellers 
Ask yourself 'what do I not see?'. This will help ensure that you never get complacent or miss an opportunity to take corrective action