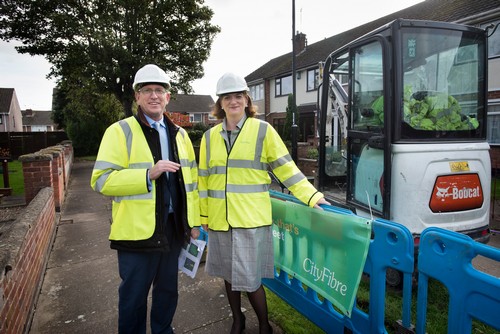 The first anniversary of CityFibre's £60m fibre-to-the-premises (FTTP) rollout of gigabit-capable full fibre infrastructure to nearly every home and business in Coventry has been marked by the visit of Rt Hon Nicky Morgan, the Secretary of State for Digital, Culture, Media and Sport.
During the visit, the Minister revealed details about a new law which will mean more than nine million people living in blocks of flats aren't left behind in the Government's nationwide upgrade to gigabit speed broadband (see Queen's Speech: Broadband gets channel approval).  The measures will make it easier to install faster internet connections in blocks of flats where landlords repeatedly ignore requests for access from broadband firms. It is estimated that an extra 3,000 properties a year will be connected as a result.=
As part of the drive to level up the country's infrastructure, the Government has set ambitious targets to accelerate the rollout of full fibre infrastructure nationwide by 2025. CityFibre's Gigabit City programme is currently into its second phase of rollouts, with mobilisation and build underway to over two million homes across 26 towns and cities. When completed, CityFibre's Gigabit City programme will bring wholesale full fibre infrastructure to more than 5m homes and businesses by 2025.
"It was great to be in Coventry this morning with CityFibre to see the work they are doing putting fibre in place to connect the city," said Ms Morgan. "We are determined to deliver nationwide coverage of gigabit broadband so that the UK has the infrastructure in place to support businesses and our economy."
Greg Mesch, Chief Executive Officer at CityFibre, added: "We are encouraged by the Government announcing these proposals to support the industry. Barrier-busting measures such as these will help the industry to rollout full fibre networks efficiently, which will be essential if we are to meet the 2025 target. As CityFibre grows to become the third digital network provider at scale, we welcome all the support that the Government is able to provide."