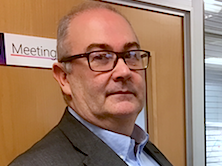 Five months into the job, Marston's Telecoms MD Tony Ford is eyeing a £2m uplift in revenue this year and targeting £20m by 2023 as he seeks to establish the business as a top rung channel focused ISP.
Ford, who was formerly Operations Director having joined Marston's Telecoms in 2017 as part of a succession plan, stepped into the MD position following the retirement of Mike McMinn last September. "In 2016 I was asked to write a paper outlining Marston's Telecoms'a capability and whether I believed the overall market would allow us to develop and grow profitably," he stated. "That insight and forecast has matured to a full five-year business plan. The first stage changes took over 12 months to execute and involved suppliers, customers, products, team and procedures all in readiness for growth. I have appointed two additional sales people with channel experience to start driving the business. It's a great feeling when it all comes together. We kicked off 2019 with a full order book that will see us grow by another 20 per cent this year."
Ford had worked as a consultant for Marston's Telecoms ever since it was established in 2008. But this engagement was not the first between the two parties, as Marston's was one Ford's first customers when he sold Internet services 20 years ago. "I cut my teeth on providing comms to pubs," stated Ford. "The early days of the Internet prepares you for anything, particularly problem solving and innovation. Today, I appreciate the education I had, not so much the cost of grey hair, but how this industry works and the importance of keeping teams focused and customers happy."
Despite being 10 years old, Marston's Telecoms more resembles a start-up which has become leaner, meaner, hungrier and fit for growth, according to Ford. "That meant optimising operations so that service and customers were king, freeing up capacity in the team by acting smarter," he added. "Supplier reviews, self-sufficiency, organisational structure, training, productisation and marketing reviews are just some of the areas we addressed."
Routes to new markets and products are essential if we are to utilise our infrastructures to the best return possible
Ford is playing to Marston's strengths and currently working with key partners with an interest in the hospitality market, particularly the pub and restaurant vertical. "Retail and hospitality is a tough place to operate in and requires ICT providers that truly understand the sector and can match services to bespoke needs," he commented. "We are working with some close channel partners and taking them into these opportunities. We are looking to add more partners in 2019."
As a Group Marston's generated £900 million turnover in 2018. It has a large customer base within the retail and hospitality sector, and adding telecoms to that portfolio proved relatively easy due to mature trading relationships and its deep knowledge of the vertical, which forms the cornerstone of an ambitious expansion plan. "Marston's Telecoms is on track to meet its five year plan," noted Ford. "We are aiming for turnover of circa £20 million. Meeting our targets, subject to the market being stable enough over the next three years, is about our people and how we engage with customers."
Ford nailed Marston's Telecoms product gap analysis early in the transformation process and has spent the last two years laying down foundations to take those products to their next iteration. "Our SD-WAN, including mobile hand-off and IoT capabilities, are mature and we are deploying SD-WAN services as standard," he commented. "Mobile data is still interesting to us and we see a multitude of services and products emerging as part of the wider WAN market, either as back-up or bonded support to existing infrastructure, which is easier when you have a network that can consume these services without changes to firewalls, IPs or established routes." 
According to Ford, there is a 'fantastic opportunity' for specialist resellers and integrators to challenge their counterparts stuck in the 90s and redefine how voice and data are sold and serviced. "The channel brings innovation and early market adoption, at least on the basis that new products will more likely be driven from the channel," he said. "The day when the pipe entering a building is just a conduit and enabler for everything else is getting close enough to start focusing on products that exist on that infrastructure rather than what's consumed. Routes to new markets and products are essential if we are to utilise our infrastructures to the best return possible."
The IoT represents a hot opportunity for Marston's Telecoms, and Ford noted that its UK network of properties could simply extend services that include the ability to monitor the surrounding environment within several kilometres of the base. Not so hot is hosted voice. For all the antics in the cloud voice marketplace, Ford says he is right to withdraw from the maelstrom and knuckle down on core business. "We looked at cloud voice early and formed some great relationships," he said. "However, the market is currently topsy turvy with changes and land grab strategies so we have taken a view to wait for the dust to settle before venturing further into this space," noted Ford. "More pressingly, we are set for our LLU rollout in Q4 and hope to bring some exciting new propositions to market in 2020."
Just a minute with Tony Ford
What do you fear the most?
Not remembering who my family are
Tell us something about yourself we don't know
I played guitar in a few touring musicals when I was in my teens, and published poetry
Name three ideal dinner guests
Sir John Harvey Jones for his approach to life and business; John Lennon, I have many questions for him; and Terry Pratchett as I love all his books
Your key strengths and what could you work on
My ability to focus hard on tasks is both a strength and a weakness: Although I get the job done, I have on occasion caused issues for people in the way or who get ignored in the execution
How would you like to be remembered?
Honest, hardworking and amusing
Name one thing you couldn't do without in your job
The Marston's people – I am nothing without the guys
Best piece of advice you have been given?
The likelihood of winning money is so small you might as well work for a living
What possession could you not live without?
My many guitars 
Give one example of something you've overcome
Illness: I hit a rough patch a few years ago but am better for it
If you weren't in IT what would you be doing?
Making wooden furniture, or maybe guitars.
The biggest risk you have taken
Remortgaging my house to invest in the Internet when spam meant tinned meat just because someone I admired said it was a good idea
Industry bugbear 
SIP channels: I still do not understand how the industry sells a non-existent product just because they were stuck in the past when they sold ISDN
How do you relax when not working?
Play guitar and make lots of noise
Top tip for resellers
The future is not minutes nor channels, but connectivity that allows you to do anything and everything