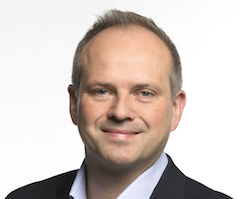 Sky Business aims to 'rewrite the rule book' as a disruptive alternative for resellers targeting the high growth Ethernet market. Its new connectivity division launched on 3rd September and claims to offer resellers the largest exchange network offering 1GB Ethernet services.
The company boasts a 7,500km fibre network with over 2,800 exchanges covering 96% of UK business postcodes. Over 70% of exchanges are 10GB enabled with 99.95% network availability.
According to Strategy and Commercial Director Mike Greening (pictured) Sky Business has accelerated its drive to establish itself in the channel as an 'alternative choice' with no legacy networks and processes to put the brakes on ambitious expansion plans in high growth markets.
Greening is seeking relationships with a range of partners from specialist connectivity players and aggregators through to cloud providers, international carriers and SIs. 
"In each of those pools people are innovating and those are the types of players we want to work with," he stated. 
"We could see an opportunity in the channel to make a difference in terms of offering an alternative choice and meeting the growing demand to deliver quality connectivity to the B2B marketplace. 
"It seems to us that the wholesale connectivity market isn't meeting the end-to-end expectations of the customer – from nationwide gigabit coverage through to service support.
"Not having a legacy base gives us a chance to re-write the rule book. Because we don't have any legacy processes, products or contracts to protect, it means we are not restricted and can be open minded about where we go and where we invest, particularly focusing on areas that make a difference for our partners." 
Greening also noted that Sky Business's proposition encompasses a roster of 'money can't buy rewards' available to channel partners. 
"It's key for us to offer a compelling partner experience, giving partners access to sporting events, content and marketing support which they might not be able to get elsewhere," he explained. 
"We are looking for deeper relationships where we collectively want to grow wallet share and develop services and platforms of the future together."