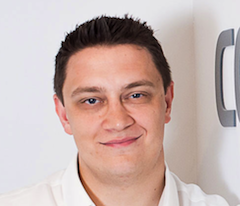 Network operator Commsworld is the first to leverage the new Dark Fibre X (DFX) product from Openreach. In its initial rollout, Commsworld will use 200 kilometres of dark fibre  to upgrade the backhaul into its enabled exchanges across the Scottish Borders, linking the region to its national Optical Core Network.
   
Commsworld CTO Charlie Boisseau (pictured) said: "Rural connectivity is only ever as good as its backhaul, and for meaningful competition to thrive in all corners of the country, measures such as DFX are crucial."
 
Katie Milligan, MD Customer, Commercial and Propositions at Openreach, added: "Commsworld has embraced dark fibre and secured an industry first to embed it into its Borders network.
  
"Access to dark fibre helps to address one barrier to a wider full fibre roll out. An early priority for the new Government should be to remove other barriers like fibre tax rates and access to land and property, and mandate fibre for new build homes.
 
"Only by working together as an industry, with Ofcom and Government, can we crack the challenge ahead."
 
DFX was made available to communications providers from August 2019, with a full launch on the 20th of December.