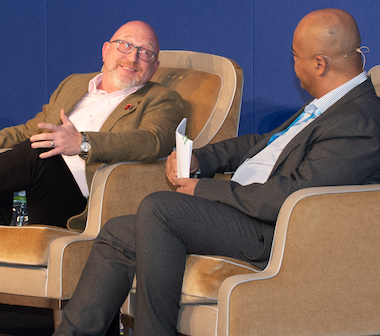 The more challenging and complex the business environment becomes, then the efficacy of channel partnerships should come under greater scrutiny, according to Onecom Group CEO Martin Flick. And possibly, the stakes have never been higher given the macro trends, making partnerships more critical.
According to Flick in his Comms Vision (2-4 November, Gleneagles Hotel) fireside interview, broad usage of the term 'partner' has catalysed the need for a realignment of the word's definition, bringing to heel rampant misconceptions and misuses.
"The term 'partner' has been much used over the years with bigger organisations describing their channel resellers as partners," he stated. "They don't mean partnership with authenticity. We want to change that convention and truly work in partnership." 
One of Flick's key principles is that increased collaboration with partners will create greater value over time. "Collaboration is all about working with organisations that have commonly aligned goals, that are honest with each other, transparent as far as possible and work to a common agenda," added Flick. "You develop opportunities together that are commercially sustainable over time."
Among other upsides, true partnerships unite complementary capabilities that provide access to new markets, noted Flick. And Onecom Group has a history of forging partnerships that strengthen its strategy through greater capabilities and support, to better serve customers and address business issues. Its alliance with Vodafone is a strong case in point.
"The relationship with Vodafone is mutually beneficial and goes deeper," added Flick. "We have openness and honesty, we work together through good and bad times, and during the pandemic Vodafone helped us. We were able to support staff and customers as a result. The partnership has real strength." 
It must be said at this juncture that Vodafone is not Onecom's only strategic partner, but as an oven ready case study it offers a fresh perspective on the structuring of a winning strategy in which both sides can harness the power of experienced teams of experts. "It's about using the partnership mentality to bring propositions to life," added Flick. 
He cited one example of a strategic collaboration which removed the barrier of requiring an open API that would take too long to develop, inhibiting Onecom's route to market. 
"We developed AI enabled virtual agents in our own front end that interact with Vodafone's front end web environment," explained Flick. "This gave us an accelerated route to automation and digitalisation of the product set before Vodafone could even contemplate opening up API access.
"Furthermore, technology we have developed will take the Vodafone IoT proposition, translate the data and turn it into workflows and work streams for customers to act upon." 
It goes without saying the avoiding unsuccessful partnerships is the best course of action, and Flick highlighted his basic rules of thumb when reconsidering partnership requirements and structures as a route to growth.
"Think about what you want from a partnership, think about your objectives as an organisation, think about whether you align with the people you're partnering with - if not, change your partner," he stated. 
"Working in partnership in the true sense of the term means building ambitious plans together, working out what good looks like, measuring porigress together and holding each other to account."
Any rethink of just how strategic 'strategic partnerships' are should take into account the expertise on offer that make a difference, or otherwise.
For example, Onecom Group's relationship with Vodafone means that by proxy channel partners can become a strategic partner of Vodafone overnight.
Onecom Partners is also launching a Strategic Partner programme, an initiative that, among other advantages, enables partners in this tier to benefit from one of Onecom's exec team in a non-exec consulting role, helping with business planning, strategy and M&A capabilities if required. "Equally, we can learn from partners at the coalface who are living it every day," added Flick. 
Over the years Onecom Group has developed a tried and tested approach to structuring partnerships. 
The company was established 20 years ago and has built a base of 70,000 business customers, with the direct business supplying in excess of half a million endpoints to corporate citizens across mobile, telephony and connectivity etc. 
"We have ambitious plans to continue to grow but investing in the direct sales team comes with huge risk and big cost," stated Flick. "It was obvious that to accelerate growth a lower end channel play would be a faster and more efficient route to market, to gain more share and to build momentum.
"We made a strategic decision to buy 9 Group and evolve the business to harness its power and capability."
The acquisition augmented 9 Group, the channel arm later rebranded as Onecom Partners, with the expertise and alliances within the parent business that are a benefit to end customer organisations.
In practice, implementing the dynamic channel partnership model means operating as a separate entity. 
"It's important that partners feel comfortable that there is no conflict," added Flick. "I've been a channel partner myself and always had that fight with direct teams - it's frustrating and annoying.
"Our philosophy is to say yes Onecom Partners is part of the Onecom Group and benefits from that scale, at the same time there is a clear demarcation between the two business units, with different systems and different finance functions. The only commonality is HR and culture, everything else is distinct with solid rules of engagement in place."
The last 20 months since the acquisition have seen three instances where a direct sales team was bidding against a partner's team, and in each case Onecom Group pulled the direct team out and the partner went on to win the deal.
That authentic partnerships such as those promoted by Onecom Group are critical to business success is reflected in Flick's assessment of how best to maximise the market opportunities at hand and thrive in ever toughening times.
 
"Focus on customer need and delivering solutions that are federated across multiple technology stacks and deliver tangible business outcomes," he stated. 
"The key is to work in solid partnership with up-chain suppliers and strategic partners, and with the partner channel on the ground which is best placed to leverage proximity to customer need and deliver solutions that will uphold growth."
Flick also put forward a compelling argument for cross-industry collaboration to tackle what he sees as the biggest area of weakness in the comms sector - the lack of application development skills. 
He called for relevant parties to work increasingly closer together on app development as part of a progressive business model which could signify a new world of breakthrough partnerships.
"There is a shortage of imagination, resource and skills in development, and we should share more often," stated Flick. "We have healthy competitors in what is a competitive market developing the same as us but at a slightly different pace. While we want to maintain a competitive edge there is a lot we can do to learn from each other as an industry and create an ecosystem that serves UK plc with a robust digital experience."