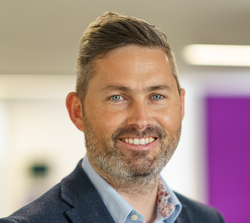 In the face of irreversible industry transformation now is the time for channel partners to reset their planning through a 2025 lens. Here, Gamma (Platinum sponsor) Managing Director for Channel Daryl Pile provides a guide to the consideration points and market opportunities that should be reflected in all successful growth strategies.
It's only been two years since businesses were forced into adopting new technology to survive. Despite this user 'immaturity', we've seen first-hand how cloud communications technology, once properly deployed, can drive growth. With this new growth appetite comes new market opportunities, but in this era of constant change, and with so much confusion and apprehension still surrounding it all, businesses are wondering what to address first and how to begin. To take advantage of what's to come, partners need to lead via support and education. Let's look at some of the current and upcoming challenges businesses are facing to fully understand these opportunities.
Staying switched on to the switch off
Openreach is currently touring the UK, switching off Public Switched Telephone Network (PSTN) exchange services tranche by tranche. The deadline year of 2025 is being banded around a lot, but many aren't aware that the National Stop Sell of ISDN orders comes into action at the end of 2023. With two million customers set to feel the impact, there's ample opportunity to be had from the switch off, but partners need to understand their part.
Partners have a prime opportunity to educate on the flexibility, reliability and security of the cloud
To many, this event will feel unprecedented. Businesses may be delaying action because of the deadline. Some might be confused by what the switch off truly means and what their options are. On the flip side of the coin, those in the know are aware that these soon to be switched off services aren't fit for the digital age, but they're tied up by the complexity of migration. The channel should be making headway now to address this plethora of queries and needs. We all have a responsibility, and should all have the foresight, to educate on what is already becoming a monumental, country-wide communicative change.
Partners have a prime opportunity to educate on the flexibility, reliability and security of the cloud. Keeping up-to-date with and acting on the switch off will enable partners to better assess which technology is most appropriate for which market, when is best to deploy and how to balance out any complexities. In turn, this will allow customers to invest their time and resources into their core strategies. This truly is a time for education. Yes, the switch off may be seen as a challenge initially (and it certainly will be for those who delay), but it's a golden opportunity for your customers to adopt technology that's built to empower people and cater to today's digitally-focused, omnichannel expectations.
Sustainable partnerships
Updating to more customer and user-friendly technology doesn't just afford businesses better connectivity and experience, it's also a chance for cost-saving and more economically friendly practices. Sustainability is at the forefront of business leader strategies, with more and more people looking to secure their spot on a carbon neutral network. As the spotlight shines even brighter on climate awareness and responsibility, buyers are becoming even more driven by their values. To avoid any techlash and to play their part in this important movement, businesses want to partner with those with strong green credentials.
When it comes to change, partners must counteract any negative sentiment by leading with education and opportunity, not fear
It's not just businesses that are becoming more values-driven, it's employees too. As Gen Z continue to infiltrate the workforce, they're looking to work with companies that share their outlook for ethical business. This ethos must be visible, and shine, through the tech stack. As this realisation hits more company radars, the need for cloud technology will increase exponentially. Partners must familiarise themselves with this demand and highlight the benefits of a sustainable strategy. To encourage and enable a more sustainable digital future, we must leverage changes such as full fibre deployments and the rise in hybrid, eco-conscious working.
Consultancy isn't a hard sell
The pandemic gave businesses a taste of more modern, cost-effective business possibilities such as flexible working and remote collaboration. These are practices and culture opportunities that, in the past, some leaders might've incorrectly assumed were either out of their budget or, within budget, but too complex to migrate to. We know now that neither of these are necessarily correct. The real deterrent is often fear of the unknown.
When it comes to change, partners must counteract any negative sentiment by leading with education and opportunity, not fear. Trusted providers should be able to combat any uncertainty. We're not simply 'selling', we're tailoring a solution to each individual business requirement or challenge. As consultants, we must rely on our secret weapon, our immutable trust. It's something that, at Gamma, we've aided our partners in fostering with their clients through exceptional service, training and unique, tailored marketing.
We need to utilise the long-standing and trusted partnerships we've built with our peers to create an approach to change that's responsible and inclusive. In the years we've spent bolstering these rich relationships, our partners have gained a unique insight through the lens of their customers. We know their strengths, we understand their challenges and we're best placed to direct them through any unprecedented digital change.
People-first partnerships
Successful partners put people first, and our technology is built and enhanced with people at the forefront. With this in mind, we all have the ability to support businesses, giving them the confidence to embrace change. We constantly pressure test and evaluate our solutions to ensure that our partners are equipped with the tools to tackle customer challenges. We regularly implement partner feedback, running a fine-tooth comb across the data to make sure that our partners are equipped with the best possible technology to cushion any customer impact and negate disruption. With so many opportunities lying in wait, and all the tools readily available and at your disposal, are you ready to tackle change?
It takes Vision to be a leader
Comms Vision is the leading annual leadership forum for CEO, MD and CTO delegates making up the major league of the UK reseller community. Places are limited and by invitation: If you would like to join us this year, please register your interest to attend at www.commsvision.com