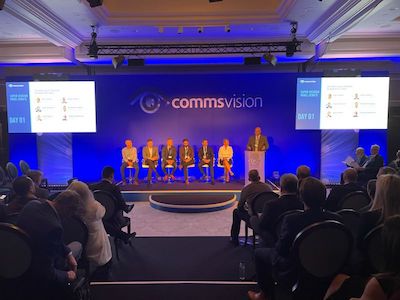 Comms Vision's (November 10-12, Gleneagles) opening SuperSession drove towards the core of value creation in disruptive times and helped delegates to prepare their business for the growth opportunities that lie ahead. 
The sum of major industry transformations such as the move to all-IP, the national fibre roll out, trends in public cloud infrastructure procurement, the rise of data-defined business models and the primacy of technologies such as AI – and the march of mega-disruptive alternative providers – is pushing the MSP world into a period of irreversible change. Not to mention the impact of Covid-19 and the drive for a more sustainable world.
And comms industry players are wide open to these forces. So much so that the comms channel and its early stage cloud evolution could merely be the precursor to something far bigger – an all-out revolution in communications driven by Super Disruptive forces. But where is customer value moving to, and how should MSPs reposition to capture that value?
"You can categorise customer value three ways - digitalisation, simplification and solutions," said Alex Tempest, Managing Director, BT Wholesale. "Customers want everything in a simple format that works. As simple as these elements sound, unless they are wrapped with knowledge and experience the customer gets zero value." 
Andy Wilson, Head of Wholesale, CityFibre, noted: "There is complexity in the mid-market and the value that can be delivered by the channel resides in the simplification of a complex IT environment that has built up over many years," he stated. "But what the hyper scalers have done is over simplify the simple. You can't just lift and shift complex IT environments and put them into AWS. There is a huge amount of workload and applications and that's where the channel comes in, helping them understand what to move now, later and what will never move in terms of applications and services."
Customers are far more exposed to substitute products and services from new suppliers – and resourcing models are being disrupted as tech giants continue to gain market share. The dominance of the major cloud providers continues to grow in public cloud where the top five control 80 per cent of the market. But uncovering opportunities where niche sectors can harness technology is one way for the channel to differentiate. Is now the time for MSPs to focus on specific services or user groups and offer niche specialities?
"The hyperscalers and tech giants are delivering a simple proposition but there is a huge amount of complexity and interdependence associated with it, said Richard Thompson, Managing Director of Wholesale, TalkTalk Wholesale Services. "It's not just a comms piece, it's a far broader sweep they offer but packaged quite simply. Customers need the channel to demystify the complexity and provide the glue that knits it all together. The channel plays a vital role."
Andy Smethurst, Channel Sales Director, Gamma, added: "With these mega-disrupters, don't be fooled into thinking they are wash with avatars and AI, there are sales specialists for every product that needs bringing together - and the channel does this well. So don't be fooled, tech giants are doing it in exactly the same way."
Diego Tedesco, Director of Wholesale Fixed at Virgin Media O2 Business, commented: "We can use cloud giants to augment the solutions we sell, or we could compete head on which is probably a dangerous game given their market power. But as a channel to end customers, it is important to make them aware of some of the limitations of huge public cloud providers. The solutions are not as customisable, they are off-the-shelf and security is a challenge. When an off-the-shelf solution does the job, let's use the partner ecosystem with the hyper scalers to augment our solutions. Where they don't fit the need we have a very important role to play."
Steve Warburton, Managing Director, Zen Partner, observed: "There is a perception that it's all plug-and play, that couldn't be further from the truth - complex environments require a real skill to optimise and configure correctly. That's where the channel has a role to play in taking different technologies to create real value for the end user."
Wilson noted that differentiating by embracing niches and verticals is something the channel has been doing for some time - and this will become more important and effective. "There is an opportunity to take some of the niche parts of core products like data and voice and layer on the top more complicated products like cyber security, data analytics and OTT services from the public cloud," he commented. "I encourage people to keep an open mind about working with customers and the solutions specified for them. If you come across a solution that works for a particular customer it may create an opportunity to be replicated in verticals or other niche parts of the market."
According to Wilson, the big opportunity is the mid-market. "I was lucky enough in a previous role to sit in front of CIOs and talk to them about their cloud strategies, and every session came back to the same point - we don't understand our own applications and environment enough to lift and shift to AWS. So there is a massive consultancy opportunity to understand those applications and IT stacks and help them on those journeys. The mid-market is red hot right now."
For Thompson, data is also a huge opportunity. "If you look at other industries, the most successful organisations are putting data at the heart of their business strategy," he said. "I don't think we quite do that in the B2B space. Part of the challenge is how do we consume it all? We are working hard around how to surface a lot more of the data we generate and use it in a meaningful way that can lead to a genuine business outcome and improve the customer experience. We've surfaced a lot of data in the broadband space using a service capability and we are going to take that into Ethernet. We should all get behind data in a major way and be as open and transparent as possible - it can add genuine value. I'm passionate about the data piece. It should be at the heart of business strategy."
Tempest can't remember a time when data never was the new gold. "It's about how we make data incredibly powerful for people," she stated. "What frustrates me is that we are not moving quickly enough - that's relevant to all of us. I feel we're almost going to leap frog to catch up because collectively as an industry and a market we are too far behind on how we synthesis data for our customers, even in simple formats."
In the professional services world it is imperative that data is made meaningful to the customer, noted Thompson. "If we as a community don't do this data will have limited value," he added. "We are investing significant resources into data scientists that can support the data mining process. That's where it will add value."
Innovation is also key to driving value. "Innovation can be viewed two ways - how you do things and how you embrace innovative ideas and solutions," said Smethurst. "With the former there's a great moment in time for that to happen with the switch off, where you an innovate the way you do things and take advantage of an enormous opportunity - digital first, API provisioning and self-service portals. It's there to be grabbed. At the other end of the scale you've got smaller customers than before demanding more complex solutions - this feeds into the growth of professional services - and the opportunity is there to design these solutions for customers and replicate and build." 
According to Tedesco it's critical to success that we work as a community. "For me, it is about how we help each other to figure out those solutions - and being honest with each other too. For example, connectivity has been allowed to stagnate and we've seen prices erode 80 per cent in seven years because we haven't evolved that product. We need to be up front with each other and say this is limiting us and customers. That will help all of us to raise the bar on the products and services we offer."
In the post-Covid world the expectations of customers have also been raised on what we are doing to protect the planet, noted Warburton. "We are starting to see customers ask us specifically what we are doing," he said. "Not a branded message but specific actions. We have also seen this when bringing people on board. They expect us to have a solid story around what we are doing. Fortunately, it's been 13 years since we set up our environmental steering group and we've made great progress. Our partners are starting to ask how we can help them to go on a similar journey, so we are sharing best practice. We are all in it together and have a responsibility to make a difference. It's about taking small steps to show that you are making a difference."
Tempest concurred: "Unless we all do this nothing is going to change. This is all about having a sustainability agenda that you are prepared to sign up to and live by. Big things happen in small stages, and every tender I've seen has a sustainability point. When we as organisations pull together on issues like sustainability - our development and learning can be shared with everybody. As well as sustainability, diversity and inclusion is on the agenda - and as a market and a channel we have to embrace this." 
Tedesco warned that at this time of transformation it is critical for channel firms to challenge themselves and challenge the status quo. "There's lots of examples of what happens in other industries when you don't do that," he said. "We can do it if we work together as a community."