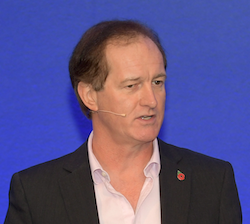 In matters of planning and go to market it is not the time for stop-go unless you want to slam up against a brick wall. It's the time to seek relentless momentum and dominance over rivals, and a strategic shot of organisational alignment will win the day, according to former Chief Executive of BBC Ventures Group and ex-Virgin Commercial Director Roger Flynn.
In his Comms Vision TED Talk Flynn shared compelling insights into why the alignment of business strategy, customer proposition and cultural values will be key to the success of all Digital Britain change programmes.
In fact, there is nothing boringly familiar about what lies ahead. "Never in my career have I seen so much opportunity," stated Flynn. "We have AI, VR and AR all enabled by 5G, and we are in an era of the 'art of the possible'. This change is as fundamental and far reaching as the advent of the Internet. Nothing is going to stop, it's going to accelerate. So how do you change your business model?"
The challenge for us all is in the way we respond, if we are not to be caught in the headlights. "In taking action, align your strategy, infrastructure and culture and drive it hard," said Flynn. "Push and innovate. We call it relentless momentum, making it hard for rivals to keep up. They will have their own change propositions. To play the game you have to move fast and be relentless." 
Flynn's 'let-rip' approach could be traced back to his first 15 minutes working directly with Richard Branson, which changed his life. Having been set a surprising task and given little time to turn Branson's vision into strategic reality, Flynn quickly understood what it takes to deliver a fresh idea to market quickly, and one that challenges the status quo. So pertinent in Digital Britain 2.0.
"If you have a new vision or direction, your strategy, infrastructure – the policies and processes – and culture must be in alignment," stated Flynn. "If there is a change of tact, it puts the key elements out of alignment. All three must be developed together."
Even when steeped in the promise of a business opportunity that could signal the start of a new phase of growth, the one thing that undermines all change programmes is culture, the resistance from people not wanting the plan to work, pointed out Flynn. 
"This cultural aspect of the alignment model encompasses fear of change," said Flynn. "Engage staff with the change factors and get the fear out of the system. This is achievable only be being open minded, which can mean changing your approach. Communicate even when there's nothing substantive to say, other than a general update, because people in the midst of change require some form of engagement to fill the void.
"Change your approach to the implementation of strategy. You can't lead change if you are spending too much time and energy with your people. Ensure you have realignment, and get the company's shoulder to the wheel."
Stick in the mud ICT providers are no match for those in step with the march of digitalisation, who punch the air and enthuse, 'Bring Digital Britain on!'. 
"There are endless opportunities and you need energy to grab them; and to guard against being outpaced a modicum of nervousness about the potential threat of market rivals is healthy," added Flynn. "If you are a little nervous and excited when there is everything to go for, that's a good place to be. You will do well."